Summer Quarterly Newsletter – 2018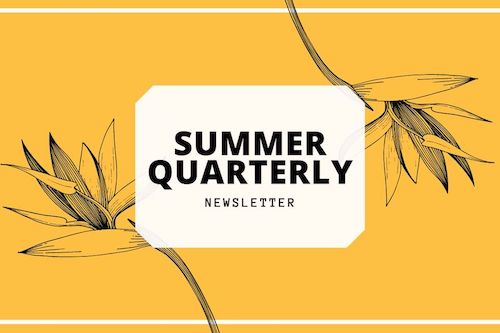 Summertime at Solana Center!
Update from our Executive Director
11 composting workshops, two Master Composter courses, a new community-scale composting course, a new professional landscaper workshop series, our Toast to Compost volunteer appreciation luncheon, presentations at nine schools, a new Eco Adventure activity, Zero Waste planning at three events, two rain barrel sales events, two school-wide recycling audits, and answers to 465 inquiries! All this since I wrote to you last! I'm amazed by our 17 incredible staff members, who completed all this work with the help of 128 volunteers in just the last three months.
I'd like to thank Joel Rabasco, for his many years of service on our board and Mary Page for her contributions. We welcome Jeff Bishop, our newest board member and give a big shout out to board member, Mary Ann Stone for her unwavering dedication.
Recently, I had the opportunity to chat with Elaine Swann about organics recycling on the May Edition of Oceanside Spectrum on KOCT. In response to many requests from the community, we also recently began offering Green Living Tours at Solana Center every first Saturday of the month. Come out to learn what you can do at your home to minimize your carbon footprint. Note that during the summer, we will only be open on the first Saturday of the month and by appointment.
We hope you will visit us at the San Diego County Fair's
Farm at Family Funville
for a variety of sustainability and composting exhibits, displays, and activities for the whole family.
Enjoy summer in San Diego,
Jessica
---
Methane Limiting Legislation Brings Change
It is a very exciting time for those of us concerned with food waste! For over 20 years, Solana Center has been promoting various ways to divert organic material from ending up in our landfills. In the 1990s, Solana Center planned and applied for permits to develop a commercial composting facility in Valley Center. That project didn't come to fruition, but since then, we've taught thousands of people how to compost their own organic waste at home or work, demonstrated real solutions for community-scale composting, connected food-generating businesses with food pantries, and created residential food waste prevention educational campaigns.
One catalyst to create significant change is coming in the form of state legislation. In 2016, AB 1826 went into effect, requiring organizations that generate large amounts of organic waste – yard trimmings and food scrap – to subscribe to a composting or anaerobic digestion service to properly dispose of it. Now CalRecycle is working to finalize the requirements laid out in SB 1383 titled, "Short-Lived Climate Pollutants: Organic Waste Methane Emissions Reductions," which will make organic material diversion enforceable against jurisdictions by 2022 and against generators by 2024.
The disruption to business-as-usual caused by SB 1383 will be on par with the changes brought about by AB 939, California's Integrated Waste Management Act of 1989, which mandated that cities and counties reduce the amount of waste going to landfills by 25% in 1995 and 50% by the year 2000. This legislation had a wide-ranging impact on infrastructure, behaviors, and our environment.

---
Easy Ways to Rat-proof Your Compost Bin
A common misconception and one we are often asked about is whether composting will attract rats. Rats are quite prevalent in San Diego, particularly roof (or tree) rats. Palm tree and other dense vegetation (bougainvillea, honeysuckle) provide ideal habitats. Food is often supplied from fruit trees, vegetable gardens, and bird feeders. Compost bins are not typically a preferred rat habitat, and by always covering composting food waste, a food source is denied. One of our educators has been a San Diego residential composter for almost 2 decades and only twice encountered rats. Both times it was because food had been left exposed.
However, if you want further assurance, unwanted critters can easily be avoided through the use of the rat-resistant tips outlined here and proper storage of feedstocks (compost ingredients). Basically, you want to deny habitat, security, and food for rats.

Solana Center at the San Diego County Fair
Bring the family to the Fair and visit Solana Center's Eco Innovation Campus at the Fair's Farm located in the Family Fun Zone! We're offering fun, educational ecology-themed activities at our expanded composting booth, Eco Container, and the new Eco adventure. Thanks to our sponsors, all activities are FREE with Fair Admission.
Composting Booth at the Fair's Farm at Family Funville
Saturday, June 2 – Wednesday, July 4
12:00-7:00 PM
Enjoy composting demonstrations, a planting station, seed sorting game, and worm races.
While there, enjoy the other farm activities — corn husking, watermelon seed-spitting contests, and make sure to see the butterflies and bees.
---
Eco Container Tours
Weekdays
12:00-5:00 PM
Our Eco Container is a re-purposed shipping container that has been transformed into a demonstration center for environmental sustainability. Take a self-guided tour to learn about solar energy, greywater systems, rain barrels, composting, and more!
---
Eco Adventure Activity
Weekdays
12:00 AM-3:00 PM
Kids can pick up an Eco Adventure card at the Eco Container and collect stamps at eco-themed exhibits throughout the farm!
---
Community-scale Composting Tour
Saturday, June 16
1:30-2:30 PM
Eco Learning Lab
Learn about community-scale composting solutions for community gardens, businesses, restaurants, and farms. Demonstrations and exhibits include an aerated static pile (ASP), an in-vessel compost system, black soldier fly larvae, vermicomposting, and Bokashi.
---
Composting Booth at the Flower & Garden Show Area
Friday, June 8 & Thursday, June 14
10:00 AM to 5:00 PM
Composting Critters Workshop at the Flower & Garden Show
Stage
Thursday, June 14
Presentations at 12:00 PM and 2:00 PM
---
Thank you to our Fair Sponsors
Eco Container
County of San Diego Board of Supervisors
Kashi
EDCO
Rainwater Solutions
Grangetto's Farm & Garden Supply
ECOR
Composting booth at the Infield Farm
City of San Diego
Composting booths at the Flower & Garden Show
County of San Diego
Eco Adventure
SDG&E
Nordson
Green Living Tours
Join us at our home base in Encinitas as we walk you through easy, earth-friendly solutions to address issues around water, waste, and soil health that can be incorporated into your life and home. At our Green Living Tour on the first Saturday of every month, you'll see sustainability in action as you explore our worm bins, greywater systems, innovative compost projects, tool lending library, water-wise garden, and more. You'll leave one step further on your journey to living a sustainable lifestyle.
Sign up online to reserve your spot. Space is limited. For groups of more than six, email volunteer@solanacenter.org to set up a private tour for a nominal fee.
Saturday, July 7, 2018
10:00 – 11:00 AM
137 N El Camino Real
Encinitas, CA
Suggested $5 donation
All About Worms Workshop – La Mesa
Saturday, June 9, 2018
Registration FULL
9:00 – 11:00 AM
Two Forks Farm (Formerly Red Door Family Garden)
Free
---
Backyard Composting and Vermicomposting Basics Workshop – Encinitas
Saturday, June 9, 2018
10:00 AM – 12:00 PM
Grangetto's Farm & Garden Supply
Free
---
Backyard Composting and Vermicomposting Basics Workshop – Golden Hill
Saturday, June 30, 2018
10:00 AM – 12:00 PM
Golden Hill Recreation Center
Free
Volunteer Spotlight: Lucas Kurlan
How did you find Solana Center and why do you volunteer with us?
I first found out about the Solana Center in high school at Canyon Crest Academy (SDUHSD) – a few members helped set up and maintain a garden and a composting bin, complete with informational signs about the different components of compost and their carbon/nitrogen contents. Even though the composting eventually fell through and the garden was moved, I was inspired by their friendliness, dedication, and knowledge. Ever since then, I have noticed Solana Center's involvement in a variety of great environmental initiatives and programs around San Diego, and have wanted to learn from them and volunteer for them. I had to choose a location to volunteer for my class at MiraCosta (service learning), so the choice was easy.

---
Got E-waste?
In partnership with Urban Corps of San Diego County, we are providing a FREE e-waste pick up service to businesses in coastal North County cities every 3rd Wednesday from 10 AM – 2 PM.
Sign up by Sunday, June 17, 2018
for pick up on Wednesday, June 20
10:00 AM – 2:00 PM
Sign up by Sunday, July 15, 2018
for pick up on Wednesday, July 18
10:00 AM – 2:00 PM
---
Join Our Team!
We are hiring for an Office Administrator position. Email your resume to hr@solanacenter.org or share with anyone who may be interested! For more info visit our website
---
Environmental Educator Reports from Brazil
Solana Center staff member, Larissa Amaral reports on her experience studying abroad in Florianopolis, Brazil.
I'm living and studying on a little island off the south-east coast of Brazil called Florianopolis (for short—Floripa) and it is known to be one of the wealthiest, safest, and nicest places to live in all of Brazil. I've not only noticed differences from back home but I've noticed differences from São Paulo (the city my parents grew up and my family lives). Florianopolis is kind of the California of Brazil while São Paulo is New York City. There are over 40 beaches and locals hike a lot and are very in tune with their environment. São Paulo is the industrial sector of the country, nicknamed the "Grey City" because of how much cement there is. Here in Floripa our apartment complex has separate bins labeled for different recyclables (paper, plastic, and glass) and a bin for organic waste while in São Paulo I've never seen a recycle bin in anyone's household. It's really interesting to note these differences.
---
Become a Board Member
At Solana Center, our mission is to mobilize the local community to address our region's most pressing environmental issues. If the health of the environment is important to you, with your professional skills, you can make a positive impact on Solana Center's Board of Directors. Email our Board President Lindsey Sheehan, lrsheehan@gmail.com to learn more about being part of a team that makes a difference in the community and beyond.
---
Thank You to Our Donors & Supporters
Alison Broadfoot
Anastasia Marks
Suzanne Muller
Debra Quick-Jones
Lindsey Sheehan
Kim Yay
David Shapiro
---
Shop and Donate with Amazon Smile
AmazonSmile is a simple and automatic way for you to support our environmental work every time you shop, at no cost to you. Just log on to smile.amazon.com and designate Solana Center as your recipient when you do your shopping.
---

This newsletter is possible through generous support from the City of San Diego Environmental Services, the City of Encinitas, and the County of San Diego