Fall Quarterly Newsletter – 2018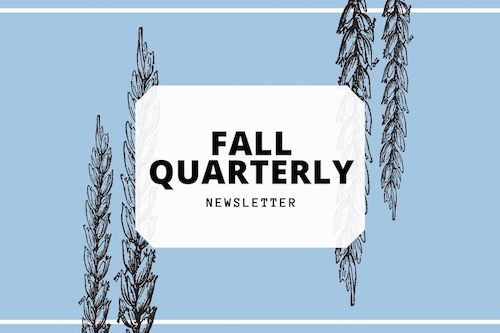 Autumn at Solana Center


Update from our Executive Director
This fall, we will be promoting our Community Compost Program (CCP) — the service for environmentally-responsible disposal of inedible food waste from homes and businesses. CCP is made possible by a generous grant from Beyster Family Foundation as well as City of Encinitas for its constituents.
Our programming and reach has increased significantly in the last couple years. Be our hero(ine) and donate your used van/truck, for a full tax-deduction credit, to help us continue to grow our impact throughout San Diego County. Please contact me at director@solanacenter.org directly if you can help.
Resourcefully,
Jessica
---
Finding More Materials for Your Compost Pile
Sometimes when we want to build a compost pile, we either have a disproportionate amount of greens and browns or don't have enough material. What to do?
Here are a few ideas to help augment your composting materials:
Post a request for materials online via a community bulletin board such as Nextdoor or a community marketplace such as Craigslist or Freecycle. You can obtain egg cartons, shredded paper, and cardboard in this manner.

Ask a neighbor for their grass clippings or their food scraps. Provide the neighbor with a trash can, tarp, or old sheet to collect the clippings. Provide them with a 5-gallon bucket with a gamma lid (a type of screw-top lid that snaps on to a 5-gallon bucket) for food scraps. Swap out the bucket weekly with a clean, empty bucket.

Find a friend who brews beer that is willing to give you some of their spent barley. A little barley goes a long way in generating heat in your compost pile. Be sure to mix the grain in well to avoid attracting critters. If you don't know any brewers, try contacting a brewing club.
---
Can I Compost Cooked Foods?
The short answer is "yes." Cooking, as well as freezing foods, helps break down cell walls, making decomposition faster, so cooked food is fine for the compost pile. However, we recommend limiting the addition of dairy or meat products in the backyard compost bin. Always cover your food well to avoid attracting flies and other unwanted critters. Lastly, we don't recommend adding very oily, spicy, or salty foods into a worm bin.
Master Composter Course in San Diego
Want to deepen your understanding of composting, learn how to build healthy soil, and make new friends? Sign up for our next County Master Composter Course! The five-week Master Composter course provides training in the art and science of composting.
Saturday, October 3rd, 2018 (First of five courses)
10:00 AM – 1:00 PM
Fallbrook Fertilizer, Feed & Farm Supply
Course fee: $25
Please note that residents of unincorporated San Diego County receive preferential registration. Non-residents will be put on a waitlist until 1 – 2 weeks before the start of the course.
Upcoming Workshops
---
Manure Management and Composting Workshop – Lakeside
Saturday, September 8, 2018
10:00 AM – 12:00 PM
Sioux Munyon's Ranch
Free
---
All About Worms Workshop – Descanso
Thursday, September 13, 2018
4:30 – 6:00 PM
Descanso Library
Free
---
All About Worms Workshop – Encinitas
Saturday, September 15, 2018
9:45 AM- 12:15 PM
Meet at Solana Center & carpool to local nursery
Free
---
Chipper Training Workshop – Encinitas
Sunday, September 16, 2018
4:00 – 6:00 PM
Solana Center
$25
---
All About Worms Workshop – Mt. Helix
Saturday, September 22, 2018
10:00 AM – 12:00 PM
Mt. Helix Park
Free
---
Backyard Composting & Vermicomposting Basics Workshop – Bay Park Morena District
Backyard Composting and Vermicomposting Basics Workshop – Crest
Sunday, October 7, 2018
10:00 AM – 12:00 PM
Crestridge Ecological Reserve
Free
Volunteer Spotlight: Master Composters
This quarter we are spotlighting all of our Master Composter volunteers. Master Composter volunteers are dedicated eco-stewards who have gone through our 5-week composting course and have committed their knowledge and passion to helping our community get on board with Earth-healthy practices.
Master Composters are required to dedicate 30 hours of volunteer time to earn their Master Composter badge, but for many, it does not stop there. Sporting shiny golden badges, our Master Composter volunteers continue to give back to the community through Solana Center programs as well as through their own hobbies and careers. Jim, a Master Composter since 2011, has since been maintaining the compost bins at his child's former elementary school. Jill composts the food waste from a local food bank and Jody is now teaching his own class on chipping with us!
Our Master Composter volunteers not only reduce their own carbon footprint, they generously donate their time and passion to help others follow in their footsteps towards a greener future. Find out more about the program on our website and join the community of eco-stewards making a difference at home and throughout our County.
---
Basics of Composting with Solana Center & The County of San Diego
We are enjoying working with the County of San Diego on a new series of videos introducing composting basics. See your favorite Solana Center educators starring in the first of these videos to help you get started composting. Let us know what you think.
---
Composting Around the World
Former Solana Center Educator and passionate Master Composter, Peter Ash, has taken his knowledge and skills and brought Master Composter training and compost workshops to locales around the world. Peter has brought his composting and soil fertility knowledge to places such as Germany, France, and Spain.
His most recent endeavor was a two week long Master Composter course in Kenya that was specifically adapted for Africa. The focus is on low-cost ways of building soil fertility using only locally available resources, with the goal of training local farmers and teachers so they can pass the information along to others. With lots of hands-on elements, local resources, and a down to earth style, Peter is dedicated to sharing his composting knowledge with the world, and a wonderful example of all the places you'll go as a master composter.
---
Want to Reduce Your Energy Bill?
No one likes higher-than-expected energy bills. Here are some tips from our partners at SDG&E to reduce your energy use during the warmer months – without sacrificing your family's comfort.
Tilt blinds up and close drapes on windows that receive direct sunlight.

Open windows in the evening to let cooler air in when safe.

Run your ceiling fan while your A/C is on; this will allow you to raise your thermostat about 4 degrees while maintaining the same level of comfort.

Enable "power management" on all computers and turn off when not in use.

Wash clothes in cold water. About 90 percent of the energy used in a clothes washer goes to water heating.

Postpone using heat-producing appliances like the oven, dishwasher, and clothes dryer after 9 PM.
---
Upcoming Events
Find Solana Center out in the community! Click here to see where to find us at composting booths throughout the County!
---
Green Living Tour
Saturday, September 8
10:00 – 11:00 AM
Solana Center
$10 suggested donation
Visit us at our home base in Encinitas as we walk you through some easy steps to address issues around water, waste, soil health, and more with practical solutions you can incorporate into your life and home starting now!
---
Thank You to Our Sponsors and Donors
---
Shop and Donate with Amazon Smile
AmazonSmile is a simple and automatic way for you to support our environmental work every time you shop, at no cost to you. Just log on to smile.amazon.com and designate Solana Center as your recipient when you do your shopping.
---
In
Memory of Dorothée Lienhart
(July 2, 1980 – August 21, 2018)
---
This newsletter is made possible through generous support from the City of San Diego, the County of San Diego, and the City of Encinitas