Spring Quarterly Newsletter – 2019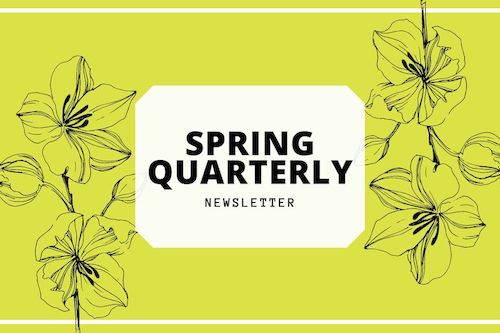 Solana Center's Spring News

Springing into Action
Through staff's tireless work hosting workshops, presenting to schools, selling rain barrels, and growing Food Cycle, we are collectively moving toward a zero waste ethic for San Diego County. Our recent Master Composter course graduated 26 new composting ambassadors. We also have seven composting workshops coming up.
Our compost program received national attention from the US Composting Council when our Education Director, Diane Hazard, was recognized for her leadership in public education and outreach at their annual conference in Phoenix. We're fortunate to have her at the helm of the education program, designing science-based curriculum and spreading her enthusiasm for composting to the community.
Food Cycle, our food scrap drop-off program, is growing by the buckets. The City of Encinitas, businesses and local residents are all participants. We have also helped events approach zero waste by accepting their food waste, ranging from 56 to 780 lbs collected! Food Cycle is approaching 100 participants and we currently have two full 4.6 cubic yard compost piles. Our dedicated volunteers support Food Cycle and many other fun activities, such as Worm Wrangling.
With all of this great community work happening, I encourage you to become a Solana Center member. Your support allows us to reach even more of our neighbors, sharing critical information about living sustainably and zeroing in on our food waste diversion goals for San Diego County.
Resourcefully,
Jessica
---
Composting with Worms:

Wiggling through Winter

Temperature is incredibly important to the productivity and livelihood of worms. Just like us, worms are happiest in moderate temperatures, so they may also need some help to thrive during the cooler months. Fortunately, most of San Diego County rarely experiences freezing temperatures, which can be deadly to worms. After all, they're mostly water!

Nonetheless, the following tips will keep your worms wiggling throughout the winter. More…
---
From the Rotline: Are Mushrooms Bad for my Compost Bin?
Fear not! Fungi are essential players in a functioning vermicompost system. They are part of the food chain going on in your bin; while we often think that worms are directly eating our food waste, what they're really after are the microorganisms that digest our food. This includes bacteria, which can break down simple carbon compounds like sugars; fungi can decompose tougher organic materials like cellulose and lignin. Because of their size, these organisms are rarely visible in your bin. However, you might see them if food isn't buried and grows mold, or at times like this when you see a mushroom cap sprouting. More…
---
Volunteer Spotlight: Rubi Baricuatro
A nature-lover growing up, Rubi knew she wanted to help people and the environment, earned a B.A. in Environmental Studies from San Diego State University and began working for the Fleet Science Center's education department. While leading their internal Green Team, she volunteered with the Balboa Park Sustainability Program during events, eventually becoming its manager.
Rubi's work and interest in waste diversion for the Balboa Park Sustainability Program is what led her to Solana Center. She had inherited a worm tower from a friend and everything was going well until she tried harvesting the worm castings. The worms didn't recover, so when she saw that Solana Center was hosting a free composting and vermicomposting workshop, she attended, learned all she could and bought worms to restart her worm bin (they're doing great, by the way). Last spring, she took the five-part Master Composter course.
Rubi does a lot to reduce her carbon footprint, including conserving water at home, not using energy during peak periods and using as much natural daylight as possible. She encourages Balboa Park visitors to have a low-impact visit by bringing their reusable water bottles, utensils and straws and to consider taking public or alternative transportation. Something new they are piloting is a "Better Balboa Park" initiative to curtail litter by tracking waste streams through the LITTERATI app. It's free and easy to use. Just take a photo of the litter, tag it with descriptions (e.g. plastic, lid), tap the check mark and you're done.
Rubi has completed her volunteer hours for her Master Composter certificate and likes to hike and cross-stitch.
Upcoming On-Farm Workshops
---
Manure Management and Composting Workshop – Rancho Santa Fe
Learn how to protect your watershed and create healthy soil from large animal manure.
Saturday, March 2
10:00 AM – 12:00 PM
Rancho Cielo Equestrian Facility
Rancho Santa Fe
Free
---
On Farm Composting Course – Terra Madre Gardens
This three-part course will cover the following subjects relevant to composting on farms and larger landscapes, including compost basics, recipe considerations, feedstocks and bulk density on the following dates:
Saturday, April 6, 1:30 PM – 5:00 PM*
Saturday, April 13, 9:30 AM – 1:00 PM
Saturday, April 27, 9:30 AM – 1:00 PM
Terra Madre Gardens
9928 Protea Gardens Road
Escondido
Course fee: $25
*note different time for first workshop
---
Manure Management and Composting Workshop – San Marcos
Learn how to protect your watershed and create healthy soil from large animal manure.
Saturday, May 11
10:00 AM – 12:00 PM
Pathfinder Farm
San Marcos
Free
Healthy Soils Program
Applications Due by March 8th
Solana Center is providing technical assistance to Healthy Soils Program (HSP) grant applicants, free of charge. HSP provides financial assistance to California farmers and ranchers to implement one or more of the HSP best practices to improve soil health. Applicants can apply for up to $75,000 for a three-year project. Matching funds are not required.
Please email sydney@solanacenter.org to schedule a time to work through the application process and meet the March 8, 2019 deadline.
Healthy Soils Program is funded by SDG&E and EDCO
---
Master Composter Course – City of San Diego
Want to deepen your understanding of composting, learn how to build healthy soil, and reduce your carbon footprint? Sign up for our next Master Composter Course! The five-week Master Composter course provides training in the art and science of composting.
Tuesday, March 12 (5-week course)
March 12 to April 9
5:00 PM – 8:00 PM
Ridgehaven Green Building
9601 Ridgehaven Court
San Diego
Course fee: $25
Please note that residents of the City of San Diego receive preferential registration. Non-residents will be put on a waitlist until 1 – 2 weeks before the start of the course.
Upcoming Residential Workshops
---
Basics of Backyard Composting and Vermicomposting – Encinitas
Saturday, March 23
10:00 AM – 12:00 PM
Glen Park
2149 Orinda Drive
Cardiff
Free
---
Basics of Backyard Composting and Vermicomposting – North Park
Saturday, April 27
10:00 AM – 12:00 PM
North Park Recreation Center
4044 Idaho Street
San Diego
Free
---
Backyard Composting Basics – Alpine
Thursday, May 9
6:00 PM – 7:30 PM
Alpine County Library
1752 Alpine Blvd
Alpine
Free
Green Living Tours
Visit us at our home base in Encinitas as we walk you through some easy steps to address issues around water, waste, soil health, and more with practical solutions you can incorporate into your life and home starting now!
Saturday, March 2
10:00 – 11:00 AM
Green Living Tour – Solana Center for Environmental Innovation
137 N El Camino Real
Encinitas
$10 suggested donation
---
Saturday, April 6
10:00 – 11:00 AM
Green Living Tour – Solana Center for Environmental Innovation
137 N El Camino Real
Encinitas
$10 suggested donation
---
Saturday, May 4
10:00 – 11:00 AM
Green Living Tour – Solana Center for Environmental Innovation
137 N El Camino Real
Encinitas
$10 suggested donation
---
Rain Barrel Event in North County
This event is so popular, we're adding a second rain barrel event in North County!
Learn more and pre-order your rain barrels today for pick up at the March 2nd event at Solana Center!
Saturday, March 2
9:00 AM – 12:00 PM
Solana Center for Environmental Innovation
137 N El Camino Real
Encinitas
---
Got E-Waste?
Coastal North County businesses can sign up for FREE e-waste pickup (a partnership with Urban Corps of San Diego).
Pick up is available the 3rd Wednesday each month from 10 AM to 2 PM.
---
Become a Summer Intern!
Solana Center is preparing for our summer San Diego County Fair Exhibit and we are opening up opportunities for two unpaid summer internships. See how you can put your creative design skills or passionate education abilities to work for sustainability! Intern descriptions available here.
---
Become a Member of Solana Center!
We're excited to announce our new membership program!
As a member, you can make a HUGE difference in your community. Our members are key to helping us further our mission, and grow our innovative programs to reach and educate more San Diegans, divert more waste, prevent more greenhouse gases, and continue to innovate for the benefit of our region and our planet.
Memberships start at $35, and you can be sure that every single dollar of your membership goes right back into our community, helping us to improve the environmental health of San Diego.
---
Thank You to Our Sponsors, Supporters and Members!
Sponsors:
SDG&E
EDCO
Supporters:
Kashi
M.A. Beyster Foundation
Whitney Duenez
Barbara Potts & Nancy Gordon
Dewey Baker
Nordson
Lindsey Sheehan
Russell Levan
Waverly Ray
Kathleen Stiven
Michael Lea
Kristine Michie
Mary Ann Stone
Tricia Pogue
Kristen & William Crane
J.F. Beyster Fund
Robert Sewell
Members:
Tricia Pogue
Barbara Potts & Nancy Gordon
John Stein
Patty Morton
Gail Gousha
Lynne Malinowski
---
Make a difference in 2019 through a tax-deductible donation to Solana Center!
You get the gratification of knowing your money is helping our environmental work here in San Diego AND a tax write-off! Make your donation by clicking on the "Donate" button below!
---
This newsletter is made possible through generous support from the City of San Diego, the County of San Diego, and the City of Encinitas