Summer Quarterly Newsletter – 2019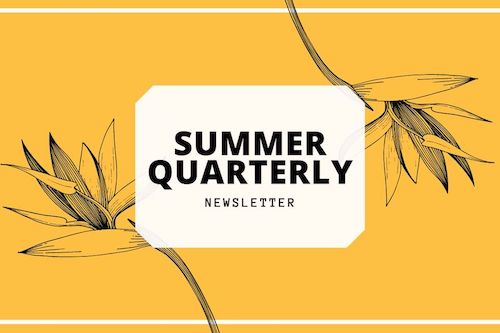 Summer at Solana Center

You Inspire Us!
I am humbled by the success you help Solana Center achieve through your volunteerism, financial contributions, participation in our programs, and waste diversion efforts. My message below highlights milestones we've achieved with your support. Read on for more activities on the horizon and tips for green living.
How did you celebrate Earth Day? You may have seen us at events in Balboa Park, Oceanside, Encinitas, SDG&E, La Mesa, and Alpine, and on local television news programs with Oceanside – KUSI and CBS8.
Many of you compost at home. If you'd like us to do the composting for you, we offer Food Cycle. We're pleased to be featured in BioCycle Magazine for this innovative program. Our food scrap drop-off program has grown steadily, with businesses, events, and households participating from all parts of the county. Food Cycle now runs three 4.75 cubic-yard aerated static compost piles, processing 1,000 pounds of organic material each month. Volunteers help us build the bins and maintain the piles. To continue running Food Cycle efficiently, we need a large sifter, known as a "trommel." Please consider supporting our growth by contributing to the Trommel Fund.
If you are capturing water on your property to use outdoors, you will notice how your plants respond to nature's untreated water. Since last spring, we sold over 700 rain barrels, with the water-saving capacity of 35,000 gallons each time they fill up.
This year's Toast to Compost was a festive event, with generous sponsors, who helped us celebrate the remarkable dedication of our hundreds of volunteers who gave 1,800 hours of their time! Two of our most impactful events happen in the summer. Come join us at the San Diego County Fair, which runs May 31 – July 4, and Switchfoot Bro-Am beach event, June 29th.
We were so pleased to be nominated and recognized by City National Bank as one of 40 community charities to receive a grant in celebration of their 40th anniversary.
I look forward to continued growth – there is much more to come!
Resourcefully,
Jessica
---
Is Bokashi the Composting Solution for You?
We love hosting workshops and answering our Rotline calls to help our community resolve composting questions. We especially love when we're able to address multiple concerns with one simple solution. This is why we so often recommend the Bokashi method, an effective pre-processing technique that enables composting a greater variety of organic material. Whether you're hearing about Bokashi for the first time or have been wondering whether to try it yourself, we hope to inspire you to give it a try! Read more...
---
Help! A Swarm of Bees is in my Compost Bin! What do I do Now?
Many of us know that bees serve a vital role in the environment as pollinators and that their populations have seen a concerning decline in recent years. However, it can still be alarming when a swarm of honeybees chooses to land around our home – including the inside of a compost bin! This happened recently in one of our backyard bins here at Solana Center, so we'd like to help you understand why swarming occurs, and how to humanely deal with a swarm. Read more…
---
Volunteer Spotlight: Mary Ann Stone
"The list of Mary Ann's contributions to Solana Center is endless," shared Executive Director Jessica Toth. "We all know that without her, the Center would not be here today and that the journey would not have been nearly as much fun! Most importantly, Mary Ann has been a steady sounding board for every aspect of our organization – people, programs, processes and, above all, progress."
In April 2013, shortly after Jessica started as Solana Center's director, she sent Mary Ann an email with the subject "Solana Center needs you!" Mary Ann didn't blink, stepping in to do our first month of invoicing and reporting. She also joined in interviewing a new educator (Diane Hazard) and bookkeepers, produced the Center's first comprehensive financials under the new leadership and inventoried all of our assets. She consolidated various bank accounts and developed personnel and benefits plans. After getting a handle on internal operations, Mary Ann was persuaded to join the board of directors as Treasurer, and today is our Board Treasurer and Secretary.
"Mary Ann walks the walk. She was among the first to install rain barrels, drive an electric vehicle and composting is part of her nature," said Education Director Diane Hazard. "And these are some of the smaller impacts she makes to reduce her footprint. We're so fortunate to know her and be influenced by her practicality and enthusiasm."
For years, our staff has wanted to recognize Mary Ann at its annual Toast to Compost volunteer recognition event, but she's far too humble and refused our entreaties. However, this year, we didn't ask her permission.
Congratulations on being this year's Golden Pitchfork Award recipient, Mary Ann, and the focus of our perpetual admiration!
Upcoming Workshops
---
Manure Management and Composting Workshop – San Marcos
Learn how to protect your watershed and create healthy soil from large animal manure.
Saturday, June 22
10:00 AM – 12:00 PM
Pathfinder Farm
2101 Marilyn Lane, San Marcos
Sponsored by the County of San Diego
Healthy Soils Program
Solana Center reached out to farmers and ranchers to discuss the State's Healthy Soils funding program, the application process and best management practices. After meeting with 13 prospective applicants, 5 full grant proposals were submitted. Read more…
Healthy Soils Program is funded by the County of San Diego
Upcoming Residential Workshops
---
Backyard Composting and Intro to Bokashi
Saturday, June 8
9:00 AM – 11:00 AM
Two Forks Farm
Mt. Helix
Sponsored by the County of San Diego
---
Basics of Backyard Composting and Intro to Vermicomposting
Saturday, June 22
9:00 – 11:00 AM
Del Mar Civic Center
1050 Camino Del Mar
Del Mar
Sponsored by the City of Del Mar
---
All About Worms
Saturday, August 3
10:00 – 12:00 PM
Malcolm X Library
5148 Market Street
San Diego
Sponsored by the City of San Diego
Green Living Tours
Are you looking for some tips to green your home or yard but don't know where to start? We offer a friendly tour of our home base in Encinitas in which we walk you through some easy steps to address issues around water, waste, soil health and more with practical solutions you can incorporate into your life and home! If you find the inspiration to take home some green supplies or borrow tools, our store and tool library are also open during this time. Join us and find out about the possibilities! If you have e-waste, this is a good time to drop it off.
Our next Green Living Tour is Saturday, June 1st. For additional Green Living Tours and to sign up, check here.
Coastal North County businesses can sign up for e-waste pickup (a partnership with Urban Corps of San Diego). Pick up is available the 3rd Wednesday each month from 10 AM to 2 PM. Sign up by Sunday, June 16 for Pick up Wednesday, June 19.
If June is too soon, view the upcoming schedule and sign up for another date.
---
Food Cycle Program
Solana Center's Food Cycle program is growing by the buckets, processing 1,000 pounds of organic material each month. Food Cycle has attracted teams of volunteers and national media attention and now we need to acquire a trommel to compost more food waste.
What does a trommel do? Thanks to our dedicated volunteers, we have tested different tools and know that the trommel, a large mechanized sifter, improves decomposition by filtering large and small particles faster. This is a great help in creating healthy soil amendment from organic waste, especially with an increase in program participation. More food waste diverted also means more organic matter is composted, returning carbon to the soil instead of the atmosphere.
Do you have a few extra dollars to contribute to the Trommel Fund?
Our goal is to raise $1,000 by June 7th to purchase materials and supplies to build a trommel for the Food Cycle program.
Perhaps consider a dollar for each pound of waste you generate weekly? No donation is too small!
---
Volunteer with Solana Center!
Solana Center is preparing for our summer San Diego County Fair Exhibit and we are looking for more volunteers to help us carry out our mission. Do you like talking with visitors about environmental issues? Do you like getting your hands dirty? Do you like participating in events? See how you can put your creative or passionate education abilities to work for sustainability! Learn more and sign up!
---
Become a Member of Solana Center!
As a member, you can make a HUGE difference in your community. Our members are key to helping us further our mission, and grow our innovative programs to reach and educate more San Diegans, divert more waste, prevent more greenhouse gases, and continue to innovate for the benefit of our region and our planet.
Memberships start at $35, and you can be sure that every single dollar of your membership goes right back into our community, helping us to improve the environmental health of San Diego.
---
Make a difference in 2019 with a tax-deductible donation to Solana Center!
You get the gratification of knowing your money is helping environmental work here in San Diego AND a tax write-off! Click the "Donate" button below to contribute!
---
This newsletter is made possible through generous support from the City of San Diego, the County of San Diego, and the City of Encinitas.