Winter Quarterly Newsletter – 2019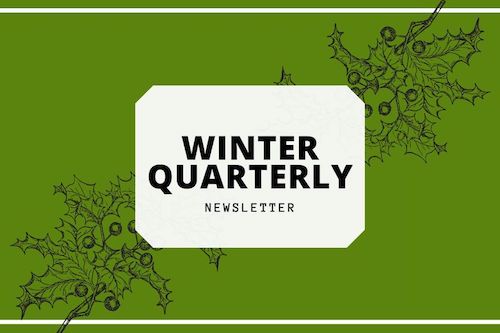 Celebrating Winter at Solana Center
The end of the calendar year is full of celebration and reflection. As we gather with friends, family and neighbors, we encourage you to plan ahead, use reusable dishes and utensils, and work toward a zero waste ethic. Holidays are the most wasteful time of year; meal planning and preparation can help reduce what goes to landfills. Repurposing leftovers into new meals is a great way to reduce food waste. Composting what can't be reused helps return environmentally-valuable nutrients to the soil and reduces decomposing organics and the carbon they release.
We here at Solana Center are also reflecting during this season on the environmental impacts we've helped facilitate over the past year. Whether it's keeping more than 40,000 gallons of rainwater from going to waste through rain barrel sales, or educating and informing more than 30,000 San Diegans about environmental sustainability, or keeping up to 2,000,000 pounds of food waste from the landfills in San Diego, we are grateful for the work we're able to do in our community.
Speaking of the work we're doing, Solana Center is offering several workshops focusing on larger scale properties and operations, including the 3-day On Farm workshop series in Escondido to protect watersheds, reduce pests naturally, and create healthier soils. We're also working to reduce residential and commercial landscape waste from trees, shrubs, and lawns through the Professional Landscaping Workshop. This workshop is CEU-approved for landscape professionals. Priority registration for both workshops will be provided to unincorporated county residents.
Due to the success of our rain barrel sales events, we are offering pick up in Encinitas on Tuesday, Thurday or Saturday after rain barrels have been ordered online. We're also planning three new pick up events in early 2020. Rain barrels are a great way to capture rain and dew to use in outdoor watering. If you need tips on how to set up your rain barrels, join us for a Green Living Tour on the first Saturday of each month at 10 AM to see how ours are set up. Our docents are great at providing thoughtful answers to your questions.
We're proud to report that our Education staff members, Kelsea and Sydney, received "Most Innovative Booth" at San Diego's Farm & Nursery Expo for appealing and creative use of space and innovative and original marketing (pictured). Nice work, Educators!
You're likely seeing year-end giving requests and we'd like to remind you to think of Solana Center at this time of year. The annual "Giving Tuesday" is December 3rd, and if that's not convenient, you can make a gift to Solana Center anytime. We hope you'll consider supporting our continued innovative work to protect the environment.
Resourcefully,
Jessica
---
From the Rotline: How to Build Your own DIY, in-ground worm bin
View the blog post with the tools you need and instructions for how to install your own in-ground worm bin. Materials:
5 gallon bucket

5 gallon bucket screw top lid

Motorized drill

½"-¾" paddle (spade) bit

Shovel
---
Sifting compost, what a fine idea
Our fervent followers may have noticed and supported our recent trommel fundraising campaign for the Food Cycle program. Thanks to generous donations the trommel was fully funded and is now benefiting Food Cycle "tromm"endously. We are extraordinarily grateful.
While our fundraising pitch explained that a trommel can expedite the composting process, we'd like to share what a trommel is, its benefits, and how it works. A trommel is a mechanized tool that screens the smaller pieces of compost from the larger pieces that still need to break down.
Let's begin with some background. To create a thriving compost system…
---
Volunteer Spotlight:
We partnered with Switchfoot Bro-Am this summer to provide on site recycling services at the event of the summer at Moonlight Beach. We recruited more than 100 Green Team vounteers who encouraged supporters to recycle throughout the day and handed out stamps and prizes for items recycled. This year was the first year we saw only recyclable items in the bins, with no trash. Thank you and congratulations to everyone who participated in this high profile and fun event that made a difference.
If you'd like to volunteer with Solana Center for Enviornmental Innovation, view our volunteer page for details about the opportunities available.
---
Compost Training Courses
"On Farm" 3-part Workshop Series – Escondido
Take part in this innovative, farmer-focused workshop that will share information about creating healthier soils, using neighbor-friendly best practices for compost management.
Saturdays, January 18 – February 1
1:00 PM – 4:30 PM
Terra Madre Gardens
9928 Protea Gardens Road, Escondido, 92026
Priority registration will be given to unincorporated county residents. $25 course fee.
---
Master Composter – Encinitas
Become a Master Composter through this 5-part workshop series that includes hands-on training and a field trip.
Saturdays, February 8th – March 7th
1:30 PM – 4:30 PM
Solana Center for Environmental Innovation
137 N. El Camino Real, Encinitas, CA 92024
Priority registration will be given to City of Encinitas residents. $50 course fee. Bring a friend from Encinitas and their fee will be waived.
---
Upcoming Compost Workshops
---
Professional Landscaping Workshop
Learn the value of living soil and how to feed the soil food web with compost, mulch, and cover crops. The course will provide Continuing Education Units (CEUs) & all attendees will receive a free copy of San Diego Sustainable Landscapes Guidelines booklet.
Tuesday, December 17th
10:00 AM – 11:30 AM
Fallbrook Public Utilities District
990 E. Mission Road, Fallbrook, 92028
---
Composting & Vermcomposting Basics – Encinitas
Learn how to improve the quality of your soil and reduce waste through composting. This workshop includes an intro to worm composting.
Sunday, January 19th
10:00 AM – 12:00 PM
Coastal Roots Farm
441 Saxony Road, Encinitas, 92024
---
Waterwise Gardening Workshop – Potrero
Learn how to create a less thirsty and environmentally friendly landscape!
Saturday, February 29th
10:00 AM – 12:00 PM
Potrero LIbrary
24883 Potrero Valley Road, Potrero, 91963
---
All About Worm Composting Workshop – Rancho San Diego
Sign up for this interesting and interactive discussion to learn everything you need to know about composting with worms.
Saturday, February 29th
10 AM – 12 PM
Water Conservation Garden
12122 Cuyamaca College Dr W, El Cajon, 92019
---
All About Worm Composting Workshop – Alpine
Learn all about how easy it is to compost your food waste with red wriggler worms at this interactive presentation.
Thursday, March 12th
6:00 PM – 7:00 PM
Alpine County Library
1752 Alpine Blvd., Alpine, 91901
---
Green Living Tours
Would you like to green your home? Join us for our monthly, one-hour tour in Encinitas for some easy steps to reduce water use and food waste, improve soil health and more, with practical solutions to incorporate into your daily life! If you find the inspiration to purchase composting supplies or borrow tools, our store and lending shed will be open. Sign up and learn about the possibilities. Bring your e-waste for drop off.
Saturday, December 7th
10:00 – 11:00 AM
Green Living Tour – Solana Center for Environmental Innovation
137 N. El Camino Real, Encinitas, 92024
$10 suggested donation
Saturday, January 4th
10:00 – 11:00 AM
Green Living Tour – Solana Center for Environmental Innovation
137 N. El Camino Real, Encinitas, 92024
$10 suggested donation
---
Rain Barrel season is here!
Order now. Pick up your discounted rain barrel at Solana Center!
Rain barrels can collect up to 50 gallons of untreated rain water and dew for you to use in your outdoor spaces. They also conserve water and prevent harmful runoff from reaching the ocean. They retail in stores for $129 but you can purchase a rain barrel from Solana Center for a discounted rate of $90. If you qualify for the unincorporated San Diego County resident discount and the SoCal WaterSmart rebate, the total cost for each rain barrel can be as low as $25. First come, first served. Purchase yours today!
Tuesday and Thurday from 8:30 am to 4:00 pm and Saturday from 9:00 am to 1:00 pm
Solana Center for Environmental Innovation
137 N. El Camino Real, Encinitas, 92024
Printed online purchase receipt required for pick up.
---
Got E-Waste?
Coastal North County businesses can sign up for e-waste pickup (in partnership with Urban Corps of San Diego).
Pick up is available the 3rd Wednesday each month from 10 AM to 2 PM.
Sign up by Sunday, December15 for Pick up Wednesday, December 18.
---
Giving Tuesday is December 3rd
It's time for Giving Tuesday, the largest global giving day all year! We're excited to be a part of this worldwide event, providing another chance to give back to our community. If you're looking for a tangible way to make a real difference with food waste, water conservation, recycling, and generally making an impactful environmental change in San Diego, now's the time.
This year, Solana Center has set ourselves three simple goals:
Sign up 10 new *monthly* donors
Receive donations from 10 people who have never donated to us before
Register 10 new volunteers
Can you help us reach these goals? Join us Tuesday, December 3rd, or if you want to get in on the feel-good day of the year a little early donate now!
---
Shop and Donate with Amazon Smile
AmazonSmile is a simple and automatic way for you to support our environmental work every time you shop, at no cost to you. Just log on to smile.amazon.com and designate Solana Center as your recipient when you do your shopping.
---
Make a difference with your year-end donation to Solana Center!
You get the gratification of knowing your money is helping environmental work here in San Diego AND a tax write-off! Click the "Donate" button below to contribute!
---
This newsletter is made possible through generous support from the City of San Diego, the County of San Diego, and the City of Encinitas.