Fall Quarterly Newsletter – 2020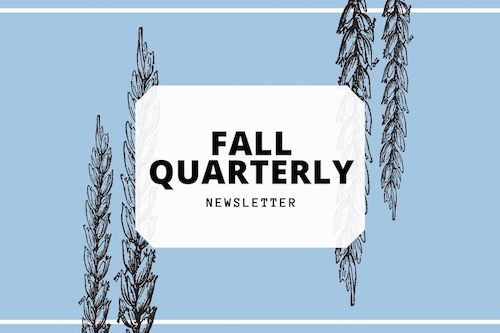 Dear Solana Center Community,

I hope you and your loved ones are continuing to stay healthy and find joy as we move into the fall season. As our daily routines continue to evolve, we remain hopeful for a strong future based in environmental stewardship in San Diego County and beyond.

Many have returned to school – whether that be virtual or otherwise – and with that we are proud to offer our own Virtual Workshop Series. I'm particularly excited about Grow Your Groceries: Getting Started with Organic Gardening 4-week course. Our upcoming workshops, interactive courses and panel conversations cover topics from composting, watershed protection, to organic gardening and fly prevention for livestock. We are pleased to see that adapting our workshops to a virtual format has enabled us to provide more accessible content to a wider audience.

In addition, we are launching our fall rain barrel program which facilitates rainwater capture– to both conserve natural resources and protect our waterways from runoff. Visit our rain barrel page for discounted pricing offerings for San Diego County residents.

As we all continue to spend more time living and eating at home, we're proud to offer the community a closed-loop means for managing food waste through our Food Cycle composting program. This food scrap drop-off program diverts thousands of pounds of organic waste from landfills every month! We have a limited number of additional spots available for households to participate. And if you're already a member, get a free month when you refer a friend.

There are a lot of exciting programs ahead. As always, our team is here to guide and offer one-on-one support or information around zero waste and composting via our Rotline. Give us a call and hope to see you on one of our webinars soon!

Sustainably yours,

Jessica Toth
Executive Director
---

An in-ground worm bin is an alternative to multi-layer worm bins that sit above ground level. In-ground worm bins have a number of benefits and are easy to DIY at home. This is a style of composting we often recommend for those who live in places where temperatures fluctuate widely since the soil around the bucket provides insulation and a refuge that worms can escape to when outdoor temperatures spike or dip. Read more about how to create an in-ground bin and the benefits on our blog.
---

Through our educational outreach, Solana Center strives to present our community with a range of options for diverting their food waste and creating healthy soil by composting. But sometimes, when presented with so many choices, we can be left wondering, "What's the right method for me?" In this article, we explore some common composting practices to help you decide which method will work best for your home and lifestyle.
---
Volunteer of the Month: Cyndi Darlington
"My daughter and I first learned about Solana Center through our on-site volunteering with the National Charity League. While Covid shut down the on-site option, I still wanted to find a way to stay connected and support the Center's work. So, when I found out about the opportunity to help with some writing, I was all in! It's been great to learn more about their mission, and help educate the community through Solana Center's website. For me, remote volunteering has been a great way to stay involved even though I can't be there in person."
---
Webinar: Composting with Worms
Vermicomposting is an environmentally-friendly way to turn your food waste into nutrient-rich castings for your plants and garden beds. Discover how easy it is to start composting with red wiggler worms.
Sponsored by the City of San Diego Environmental Services
---
Webinar: Build Your Own Backyard Compost Bin
Are you filled with DIY spirit and ready to start composting at home? If so, join us for this online webinar to learn how to build your own backyard compost bin, and let us help you begin your journey to composting success!
Sponsored by the City of San Diego Environmental Services

Saturday, October 3rd
10:00 – 11:00 am
Free Virtual Webinar

---
"Shoo, Fly, Shoo!" Fly Control for Livestock Owners
Flies irritate and stress livestock. They transmit diseases, potentially creating serious health issues for your animals. In this 1-hour webinar, we will discuss an array of strategies you can use to control flies on your property, including the important role of manure management. We will be joined by guest speaker, Nancy Reigler, owner of Ramona's Oasis Camel Dairy, who will explain her approach to reducing flies among her camels and other livestock.
Sponsored by the County of San Diego

Thursday, October 8th
11:00 am – 12:00 pm
Free Virtual Webinar


---
Webinar: Build Your Own Vermicomposting Bin
Creating a happy home for composting worms is simple and inexpensive! This webinar will show you how to construct an effective bin for composting food waste at home using red wiggler worms.
Sponsored by the City of San Diego Environmental Services
Friday, October 16th
5:00 – 6:00 pm
Free Virtual Webinar

---


Prepare for the rainy season by ordering a rain barrel! Current special savings are available for San Diego County residents with extra savings for residents of unincorporated San Diego County. Order online with pick up events in El Cajon, Valley Center and during posted business hours at Solana Center.


---
Small Acts Make a Difference!
With your help, we are proud to support the San Diego community by addressing the region's most pressing environmental issues. Join us in protecting our planet– by keeping organic waste out of landfills, conserving resources, and reducing pollution– with a tax-deductible donation.


---
This newsletter is made possible through generous support from the City of San Diego, the County of San Diego, and the City of Encinitas.