Spring Quarterly Newsletter – 2021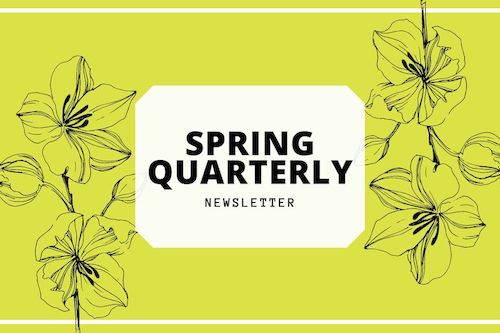 Dear Solana Center Community,

Spring is on its way to breathe refreshing energy into this uncommonly warm winter. As we enter the blossoming season, now is a great time to start planning your spring garden – gathering your seeds, filling your rain barrels and preparing your compost. To help your sustainability journey, our team is offering many virtual education programs as well as more rain barrel pickup opportunities from our Center through the month of April.

We are introducing a new approach to many of our educational programs – a series of webinars that build successively. I encourage you to sign up for the full series, but you can also take individual webinars to suit your need. Details on our Farm & Ranch Composting series as well as the Traditional Composting series are below. Additionally, if you've been itching to become a composting expert, now is your chance! Our upcoming Master Composter 5-Week Course starting this May will provide in-depth and interactive experiences like no other.
As always, our team is standing by to provide one-on-one support for zero waste and composting via our Rotline. Give us a call at (760)436-7986 x700, or email compost@solanacenter.org.

We are continually grateful for the support of our community. As we approach Earth Month this April, I encourage you to think about how you celebrate our planet. Wishing you all health and warm sunshine.

Sustainably yours,

Jessica Toth
Executive Director

PS: Did you catch the climate change series in the Union-Tribune the other week? My piece discusses the impact of food waste and a regional closed-loop solution to get to carbon neutrality. Reply and let us know what you think.
---
Rotline Question: Can I make a traditional compost pile with paper as my only brown?

Answer: Making a traditional compost pile with paper as your only brown is doable, but not optimal. Because paper has been highly processed, your finished compost can have a dense and pulp-like consistency, rather than feeling like soft and fluffy soil. It is also good to aim for diversity in your compost to create a final product with a higher nutritional content and better balance of nitrogen ("greens"), carbon ("browns"), moisture, and oxygen.
---

Did you know that San Diego is fortunate to have more small farms than any other county in the nation? With the unique combination of urban and rural landscapes, San Diego was one of the first Southern California regions to adopt the framework for carbon farming pioneered by the Marin Carbon Project. Carbon farming describes a variety of agricultural methods aimed at sequestering atmospheric carbon into the soil and crop roots to mitigate climate change inputs. These practices also prevent erosion, increase soil fertility to aid plant growth, and improve the soil's ability to absorb and hold water. Learn more about how carbon farming is creating a more resilient San Diego.
---
Volunteer of the Month: Marty Imler
Marty has long had an interest and mindfulness about the carbon footprint and always loved exploring all the amazing things nature has to offer. Marty has gained a whole new appreciation and perspective on sustainability and eco-friendly products working for consumer product testing labs over the last 12 years deepening her passion for protecting the overall health of the environment. She was very excited for the opportunity to combine her passion and knowledge to help others on their journey to greener and cleaner living by volunteering with Solana Center.
Thank you, Marty for your big impact!


In partnership with the San Diego Farm Bureau, we're pleased to announce our virtual composting workshop series for farmers, livestock owners, and larger sized residential properties.
These free webinars build upon each other as we virtually visit several local sites and address differing concerns and strategies, all pertaining to organic waste management. We'll show you how composting can help the quality of your soil, protect and conserve water, and improve livestock conditions. We'll also help demystify permitting requirements. Register for all four or attend several sessions à la carte. Click the title below to get more information.
3/10 Mid-scale Windrow Composting
3/17 "Shoo, Fly, Shoo!" Pest Control
3/24 Small-scale Aerated Static Pile Composting
3/31 Landscaping for Watershed Protection
Sponsored by the County of San Diego



---

We're here to help take your composting knowledge to the next level with an educational and engaging 5-week virtual Master Composter course. Join our educators to dig deeper into the art and science of composting during weekly live Zoom sessions. We'll also provide a course manual, independent study activities and a curated Facebook group for continued discussion.

We'll cover various types of composting, meet the microbes and macro decomposers who make the magic happen, and discuss maintenance and troubleshooting. $25 course fee with preferential registration for unincorporated San Diego residents.
Sponsored by the County of San Diego
---
Free Business E-Waste Pick Up
Electronic waste represents around 70% of the overall toxic waste in landfills and can eventually pollute our groundwater supply. Did you know businesses in coastal North County cities are eligible for a free e-waste pick up service? Sign up by Friday, March 12th for our 3/17 pick up or by April 16th for the 4/21 pick up.

Additionally, residents can drop off unwanted e-waste to our center in Encinitas during business hours Thursdays and Saturdays.
Special thanks to our partner, Urban Corps
---
Need help with your composting? We're here for you.

Schedule a free consultation with one of our resident composting experts to troubleshoot your compost issues. Unincorporated County of San Diego residents can easily book a 1:1 meeting with the link below. As always, everyone is encouraged to give us a call on the Rotline with any compost questions at (760)436-7986 x700, or email compost@solanacenter.org.
Generously funded by the County of San Diego



---
Save Money & Water with a Discounted Rain Barrel – North County Pick Up
Make the most of the end of rainy season by collecting rainwater to use all summer long! $35 rebates are available for qualifying residents with easy pick up from Solana Center in Encinitas.
Sponsored by Olivenhain Municipal, Carlsbad Municipal, and San Dieguito water districts, and Santa Fe Irrigation District.
Limited time offer. Pick up during Solana Center business hours through April 15th.

---
Looking ahead: Celebrate Earth Month with Us!
This April, we are looking forward to recognizing Earth Month and taking action as a community. We want to empower each of you to show and tell how you are contributing to a greener future today and every day by submitting a work of art, short letter or story, song, photo or other unique form of expression to inspire your fellow neighbors! The Solana Center team will be compiling entries for display at our center in Encinitas throughout Earth Month, April 2021, which can be safely viewed and enjoyed during business hours.
Protecting and preserving our planet will continue to require many creative solutions –– and there's no better place to start than sharing your own creative action! Make a submission and learn more about the ongoing "Earth Day is Everyday" installation with the link below.
---
Since 1983, the Solana Center team has been working to create innovative solutions to environmental issues in San Diego. This includes education at the governmental, commercial and residential levels to encourage a low-waste lifestyle in order to combat climate change. With your support we can continue to inspire San Diegans to take actionable steps to make a positive change.

Order with purpose by designating Solana Center as your AmazonSmile donation recipient for a simple and automatic way to support our environmental work as you shop! Log on to smile.amazon.com and donate at no additional cost to you. You can also check out our online store for some great gift ideas to help support local.
---
This newsletter is made possible through generous support from the City of San Diego, the County of San Diego, and the City of Encinitas.