Summer Quarterly Newsletter – 2021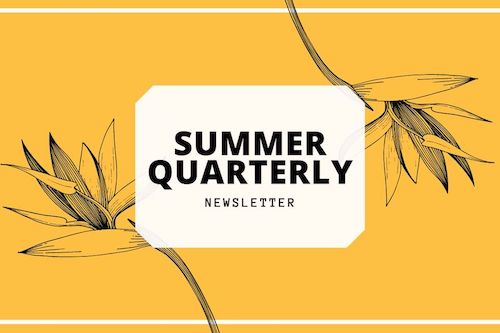 Dear Solana Center Community,

As we hit the halfway mark of 2021, I am humbled by the success you help Solana Center achieve through your volunteerism, financial contributions, participation in our programs, and waste diversion efforts thus far. We are driven by contributing to a greener San Diego and your involvement is so valued! Every week the community brings half a ton of electronic waste and hundreds of batteries and lightbulbs rather than disposing of them in their trash. This past rain season almost 1,500 50-gallon rain barrels were purchased to capture and reuse rainwater. And, in just one half-day event, 800 pounds of unwearable textiles were collected. Together, we can keep resources from going to waste!

Looking forward to the coming months, we are excited to offer an assortment of virtual education programs and volunteer opportunities. We encourage consistent environmental messaging across the region and this month we are hosting a 4-part webinar series jointly sponsored by the County of San Diego and the City of San Diego for unincorporated and City residents.

It has been so lovely to see some of you in the community the past months at the Leucadia Farmer's Market. Come by our outreach booth this Sunday, June 9th to chat with our staff and EDCO about food waste diversion and recycling properly.

Our team is always standing by to provide one-on-one support for zero waste and composting via our Rotline. Give us a call at (760)436-7986 x700, or email compost@solanacenter.org.

Sustainably yours,

Jessica Toth
Executive Director
---
Rotline Question: Is it possible to have too many worms in my vermicompost bin?
Answer: Red wiggler worms are amazing in so many ways, and population management is one of them. So, the short answer to the question is "No, you can never have too many worms!" Read the article on our blog to learn why and ways you can help with population management.
---


3 Composting Myths Debunked
Composting is a rewarding practice for so many reasons, but we'll be the first to admit that getting started can be intimidating – especially with myths floating around! We're here to dispel three misconceptions to help give you confidence when you're ready to start composting at home.


---
You might not realize it, but there are lots of reasons an electric vehicle (EV) could be the perfect fit for you. Whether you're looking for the ideal road trip companion or just looking for something you can rely on day-to-day, there's an EV that has just what you're looking for. Our partners SDG&E shared three reasons to LOVELECTRIC and embrace the EV lifestyle on our blog.

---
Volunteer of the Month: Seth G.
"I first learned of the Solana Center in 2017 when I started learning to garden. I realized that building healthy soil was fundamental to growing food, and I wanted to learn more about what goes on in soil. That led me to attend a few workshops and start volunteering. I soon joined the docent program and got to learn a lot more about the educational elements of the Solana Center and enjoyed talking with visitors about the many backyard sustainability concepts that the Center has set up. Most of my motivation to continue being involved has come from an appreciation for the work that the Center does. I enjoy the people working there, the projects I've been involved in, and educating on personal sustainability!"
Thank you, Seth, for your big impact!

Join us for our worminar series that will take you from bins, to build, to black gold (that nutrient-rich by-product). Your plants will thank you.

6/3: Constructing Your Own Worm Bin
6/10: Getting Started with Vermicomposting
6/17: From Care to Castings
6/24: Ask a Worm Wrangler


Generously funded by the County of San Diego and the City of San Diego
---


Curbside organics pickup is coming to Encinitas this June thanks to EDCO's new anaerobic digestor! Join Solana Center to learn prevention tips and tricks to reduce your organic waste, how anaerobic digesters are a big step towards local sustainability, and what you need to know about SB 1383 – California's mandatory organics recycling law.


Sponsored by the City of Encinitas
---

Composting is a great way to get the whole family outdoors, improve science comprehension, and create a sustainable world together. This 3-week course, designed for kids and adults, will prepare your "green team" to successfully compost at home. Includes printable activity sheets and a decomposer detective kit to make learning engaging and fun!


Sponsored by the County of San Diego
---

Get answers to all of your traditional backyard composting questions during this virtual 1-hour Q&A session with Solana Center's knowledgeable educators! Offered in partnership with The Water Conservation Garden.
Sponsored by the County of San Diego
---
Backyard composting is an economical and effective way to recycle organic materials and keep them out of the landfill. In doing so, you not only reduce air pollution from methane gas, but you can also improve the quality of your soil while saving energy, money, and water. Join us for a free workshop to learn what type of compost bin works best for your backyard and how to get started!


Sponsored by the City of San Diego Environmental Services
Starting to go back to the office and need to tidy up old machinery? Take advantage of this free service! Electronic waste is responsible for ~70% of all toxic waste that leaches out of landfills. Do your part to protect San Diego groundwater supplies and schedule by Friday, June 11th for a free pick on June 16th!

Special thanks to our partner, Urban Corps
---
Need help with your composting? We're here for you.

Schedule a free consultation with one of our staff composting experts to troubleshoot your compost issues. Unincorporated County of San Diego and City of San Diego residents can easily book a 1:1 meeting with the link below.


Generously funded by the County of San Diego and the City of San Diego

As always, everyone is encouraged to give us a call on the Rotline with any compost questions at (760)436-7986 x700, or email compost@solanacenter.org.
---
Since 1983, the Solana Center team has been working to create innovative solutions to environmental issues in our community. We can continue to inspire San Diegans to take actionable steps to make a positive change with your support. Make a donation today or order with purpose by designating Solana Center as your AmazonSmile donation recipient.
---
This newsletter is made possible through generous support from the City of San Diego, the County of San Diego, and the City of Encinitas.