Fall Quarterly Newsletter – 2021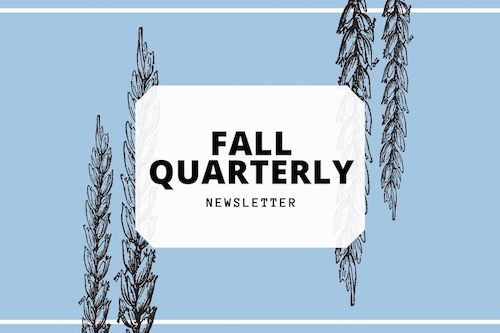 Dear Solana Center Community,

This past month was big for climate and social justice. Now more than ever, all effort is needed to counteract climate change following the recently released UN Intergovernmental Panel on Climate Change report. Global warming is projected to rise 1.5⁰C within the next two decades, essentially locking in a hotter future for living beings of this generation and those yet to come.

What is needed now is action. Action from government representatives, local businesses, and residents alike to combine forces and put our planet's climate at the forefront of all initiatives. Each one of us has a responsibility to consider the climate with the daily choices we make.

Of all the proposed solutions advanced by Project Drawdown, reducing food waste tops the list for potential impact to limit warming to 2⁰C. You can make an impact by composting your organic waste or properly sorting your food waste for curbside pickup by your hauler. Solana Center has regular education and outreach, with actionable steps to prevent waste and create healthy soil. Join us for an upcoming webinar or course to learn about ways to dig in and contribute to a brighter future.

As always, our team is here to provide one-on-one support for zero waste and composting via our Rotline. Give us a call at (760)436-7986 x700, or email compost@solanacenter.org with your composting and climate concerns.

Sustainably yours,

Jessica Toth
Executive Director
---
Rotline Question: How often do I turn my compost pile?
Answer: We love this question, mainly because the answer is so incredibly forgiving. How often you turn your compost depends on what you are planning to do with it. In a nutshell, the more you turn it, the quicker materials will decompose and yield beautiful soil for your gardening projects.
---


Composting worms don't like citrus or spicy foods – here's why!
Some would say that the way to a worm's heart is through their stomach! But just like humans, worms have food preferences and favorites. As a general rule, scraps that you would normally put down the garbage disposal can be put into your worm bin. But have you ever thought about why worms don't like foods such as citrus or spicy peppers? Learn more in our latest blog article.



---
Volunteer of the Month: David R.
"The Solana Center for Environmental Innovation is a very special place with special people who care about each other, our community, and the planet. I like to volunteer with the Center so that I can spend time with people who care about the same things I do . . . like living in a sustainable way that improves the world around us."
Thank you, David, for your big impact!

Get the dirt on traditional composting with our webinar series covering how to set your pile up for success, utilize the bokashi method, and reap the benefits of your finished product. We'll address how composting makes a big impact on the health of your garden and your carbon footprint. Register for all or attend sessions à la carte.
9/2: Starting Your Traditional Compost Pile
9/9: Bokashi & Composting
9/16: Troubleshooting, Harvesting, & Using Traditional Compost


Sponsored by the County of San Diego
---


Curbside organics pickup is now possible in Encinitas thanks to EDCO's new anaerobic digestor! Join Solana Center to learn prevention tips and tricks to reduce your organic waste, how anaerobic digesters are a big step towards local sustainability, and what you need to know about SB 1383 – California's mandatory organics recycling law.


Sponsored by the City of Encinitas
---

Worm composting is a fun way to prevent food waste and create nutrient-rich soil amendments to use as fertilizer for your garden and houseplants! Learn which foods are suitable to feed to red wiggler worms, how to set up your own worm bin, and more by joining the upcoming free webinar


Sponsored by the City of San Diego Environmental Services
---
Become a Master Composter! Dive into the art and science of composting with weekly live Zoom sessions, independent study materials, and a field trip to a large-scale composting operation. Check out our upcoming courses below!

$25 course fee with preferential registration for City of San Diego residents.

Sponsored by the City of San Diego Environmental Services
---
Join Solana Center to learn the basics of vermicomposting. Come enjoy this workshop and stay for the festivities of Bates Nut Farm!


Sponsored by the County of San Diego

---
Nearly 40% of food produced worldwide is wasted. You have the power to help change this statistic by making small changes to your daily life and habits. Learn how to be a part of the solution in this webinar!


Sponsored by the City of San Diego Environmental Services


---



In partnership with the San Diego Farm Bureau, we're pleased to announce our virtual composting workshop series for farmers, livestock owners, and larger-sized residential properties.
These free webinars build upon each other as we virtually visit several local sites, address differing concerns and strategies, and demystify permitting requirements, all pertaining to organic waste management. We'll show you how composting can help the quality of your soil, protect and conserve water, and improve livestock conditions. Register for all four or attend several sessions à la carte.


Sponsored by the County of San Diego
---
Need help with your composting? We're here for you.

Schedule a free consultation with one of our staff composting experts to troubleshoot your compost issues. Unincorporated County of San Diego and City of San Diego residents can easily book a 1:1 meeting with the link below.


Generously funded by the County of San Diego and the City of San Diego

As always, everyone is encouraged to give us a call on the Rotline with any compost questions at (760)436-7986 x700, or email compost@solanacenter.org.

---
Since 1983, the Solana Center team has been working to create innovative solutions to environmental issues in our community. We can continue to inspire San Diegans to take actionable steps to make a positive change with your support. Make a donation today or order with purpose by designating Solana Center as your AmazonSmile donation recipient.

Need to add more supplies to your composting collection? Check out our online shop! New this month: Bag to Earth small food waste bags
Sold in a pack of 10, these bags are fully compostable and fit perfectly in the EDCO kitchen caddie containers helping you take your organic waste to the curbside or compost bin without a mess!
Planning to drop off your Food Cycle community compost bucket or e-waste at our site in Encinitas? Take note Solana Center's store will be closed Saturday 9/4 in observance of Labor Day. Wishing everyone a happy and safe long weekend!
---
This newsletter is made possible through generous support from the City of San Diego, the County of San Diego, and the City of Encinitas.