Build and Beautify: Zero Waste Party Crafting!
Jun 29, 2023 9:00AM—11:00AM
Location
Solana Center for Environmental Innovation 137 N El Camino Real Encinitas, CA 92024
Cost $0.00
Categories Volunteer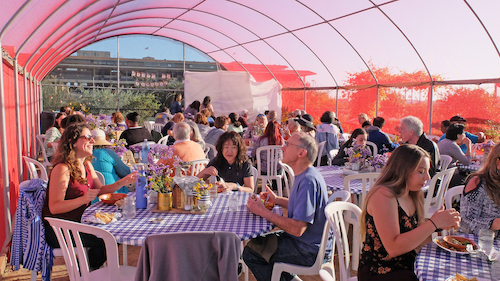 Build and Beautify is a day for volunteers to get involved with the development of our home base and support Solana Center programs from the ground up! 
This Build and Beautify is extra special, as we will be preparing for our annual Toast to Compost taking place the very next day. This event celebrates our most dedicated volunteers to thank them for their service. If you volunteer for this event, you can attend the event the next day as well! 
In joining us for this activity, you will help beautify our grounds and prepare for the party. Activities vary each month and may include some of the following:
Zero Waste decoration making
Gardening and pruning
Setting up event area
Juicing lemons and oranges 
Beautifying our grounds
Other party prepartion tasks as they arise
Volunteer Shift
9:00 am to 11:00 am
Opportunity Requirements & Important Notes
Attire: Wear clothes to get dirty in! Gloves will be provides but feel free to bring your own.

Bring: Reusable water bottle, sun protection. Mask for when working in close proximity. 

Experience Needed: All levels of experience welcome! 

Age Requirements: Must be aged 16 and up. All volunteers under the age of 18 will need a parent or guardian to fill out the registration form on their behalf.

Physical Requirements: Must be willing to do hands-on work and able to lift up to 30 pounds. 

Other: Please be on the lookout for an information email 1-4 days before the event with any additional details. If you can no longer make the event and need to cancel, please let the volunteer coordinator know as soon as possible so we can give your spot to another volunteer.