Food Cycle Program – Compost Bin Build
Apr 20, 2023 9:00AM—12:00PM
Location
Solana Center for Environmental Innovation 137 N El Camino Real Encinitas, CA 92024
Cost $0.00
Categories Volunteer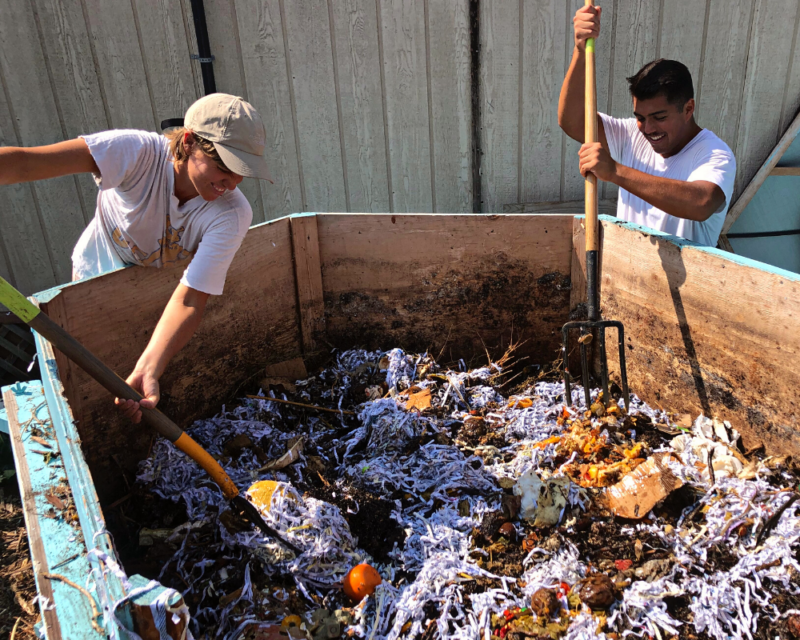 Our Food Cycle program allows community members who can't compost at home to still divert their food waste. Our triple bin aerated static pile system is on a precise timeline to get food scraps cooking and turned into finished compost to be sent back out into the community as fast as possible. Our team of volunteers is instrumental in this process!
Every month we need help building a new pile from the collected food waste. Join us at this event and learn about composting and the amazing bokashi method of composting. In this event you will assist with:
Mixing fermented food waste with mulch, coffee grounds, water and other composting process ingredients (this is stinky! must be comfortable with strong smells)
Piling mixture into our aerated static pile bin
Washing food waste collection buckets for redistribution
Volunteer Shifts
Opportunity Requirements & Important Notes
Attire: Wear clothes to get dirty in! Gloves will be provided but feel free to bring your own. 

Bring: Reusable water bottle – we have plenty of snacks! 

Experience Needed: All experience levels welcome! 

Age Requirements: Must be at least 14 years of age. All volunteers under the age of 18 must have a parent or guardian fill out the registration form on their behalf. Please sign up EACH member of your group. 

Physical Requirements: Must be willing to do hands-on work with worms and other compost critters! Must be able to lift up to 30 pounds and be able to be physically active for 3 hours (but with lots of breaks!). This is a smelly event! Volunteers should be ok with the smell of food waste. 
First time volunteering with Solana Center? You can learn more about our organization, our programs, and browse our free resources through the links below!
The Food Cycle Program is a co-op where San Diego County residents and small businesses preserve their organic waste using the Bokashi method and then deliver it to Solana Center to be turned into a nutritious soil amendment and distributed back into the community. 
Please check your calendar before signing up for this event. If you sign up and are unable to make it, email volunteer@solanacenter.org as soon as possible to cancel your volunteer shift so we can re-open your spot for someone else.