Outreach Support: Booth at The Spring Garden & Butterfly Festival at The Water Conservation Garden
May 06, 2023 8:00AM—4:00PM
Location
The Water Conservation Garden 12122 Cuyamaca College Dr West , 92019
Cost $0.00
Categories Volunteer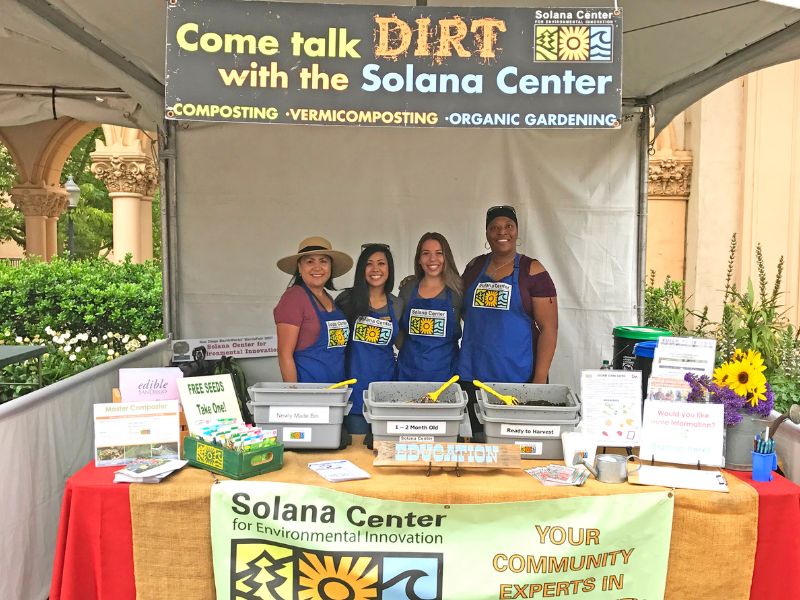 Volunteers help our staff teach simple solutions on how to divert wasted food from the landfill, reduce harmful greenhouse gases like methane, and build healthy soils that feed our plants and hold water. 
At this event, you will engage community-members with our worm display, showcase our upcoming classes, and share information on other composting resources available to the public through Solana Center and our sponsors. 
About this event: Leading off the Exclusive Experiences is The Water Conservation Garden's Ms. Smarty-Plants™! She is excited to be hosting her famous Pollinator Party and Butterfly Releases with exclusive story time interactions with her friend, Miss Monarch! Alongside all this excitement are special crafts like creating unique Bee Bath's for tiny pollinators and creating your own wearable Pollinator wings for young and old alike! Don't miss our super popular petting zoo companions too! Included in the FREE Admission to The Garden are the many specialty vendors, food trucks and workshops throughout the Garden's trails. We will be BUZZING all day in enthusiasm to share with you and your friends!
Cuyamaca College's Ornamental Horticulture Department is holding their largest Plant Sale of the year in their brand-new Nursery on the College Campus. The Heritage of the America's Museum will be hosting tours throughout the day. And NEW this year, The Cuyamaca College – Coyote Music Festival will present a range of amazing artists in The Garden's Amphitheater all day. From Rock n Roll bands to Singer Songwriters melodic tunes, there will something extraordinary for everyone to enjoy! – thegarden.org
Volunteer Shifts
8:00 am to 12:00 pm (2 volunteers)
12:00 pm to 4:00 pm (2 volunteers)
I'm available for back-up in case of cancelations (2 volunteers)
Option to bring a guest available, contact volunteer@solanacenter.org to let coordinator know.
Opportunity Requirements & Important Notes
Attire: Wear clothes that are comfortable for standing in and appropriate to the weather. 

Bring: Reusable water bottle, snacks for break-time.

Experience Needed: Volunteers should possess basic knowledge of the composting process and have a passion for topics in sustainability. Additional training documents provided on event day.

Age Requirements: Must be at least 12 years of age. All volunteers under the age of 18 must attend with a parent or guardian. 

Physical Requirements: Must be willing to do hands-on work with worms and other compost critters! We typically engage passer-bys with our worm display, so it helps if you are comfortable handling our stars of the show! Must be able to lift up to 30 pounds (for set-up and break-down).

Safety: All volunteers must bring to their volunteer shift the day of the event either: proof of vaccination, either through your issued vaccination card or through California's Digital Covid-19 Vaccine Record, OR proof of a negative PCR test (only PCR tests will be accepted) taken within 7 days of the event.