Solana Center Store Volunteer, Thursday
Dec 22, 2022 11:30AM—5:00PM
Location
Solana Center for Environmental Innovation 137 N El Camino Real Encinitas, CA 92024
Cost $0.00
Categories Volunteer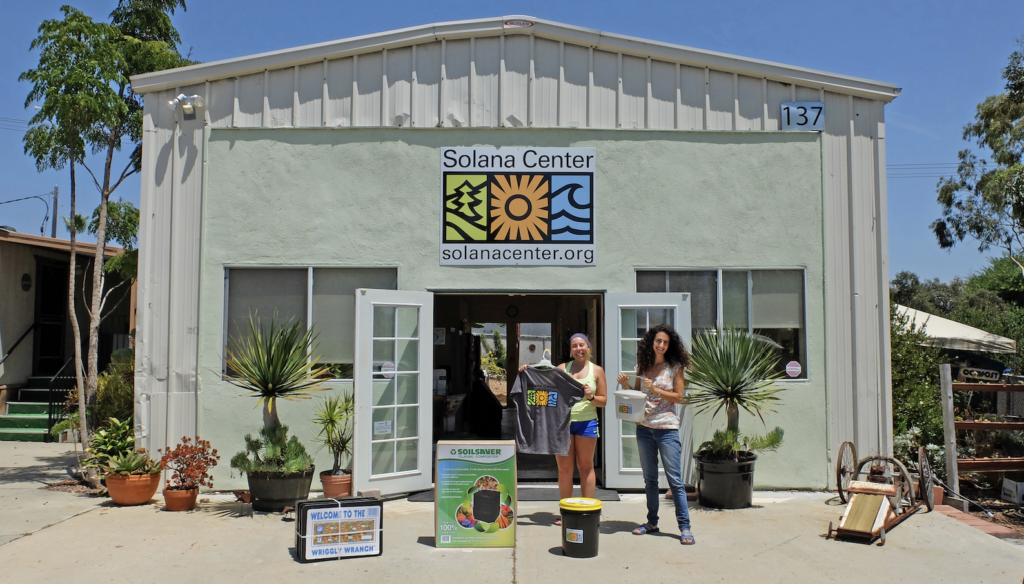 Help Solana Center run our store and deliver our great programs to the public!
The Solana Center store, open twice a week, is a chance for volunteers to get involved with our programs from our home base. Each week on Thursdays from 12:00 pm to 5:00 pm and Saturdays from 9:00 am to 1:00 pm, we welcome you to join us in at the Center to lend a hand in our store operations. Although responsibilities may change with any needs that may arise, in this role you will:
Assist Solana Center staff with setup and/or breakdown of staging areas for our programs:

e-waste collection, rain barrel distribution, Food Cycle bucket exchange, and curbside pickup of composting supplies

Direct customers to fill out appropriate forms for e-waste collection and Food Cycle bucket exchanges
Verify order information for customers picking up composting supplies and direct them to item pickup
Thursday Shifts
1st half from 11:45 am – 2:30 pm
2nd half form 2:30 pm – 5:15 pm
Entire shift 11:45 am – 5:15 pm (simply sign up for both)
Opportunity Requirements & Important Notes
Attire: Wear clothes that can get dirty and closed-toe shoes. Please dress appropriate to the weather as we will be outside.
Bring: Reusable water bottle, work gloves if you prefer to use your own.
Experience Needed: All levels of experience welcome! 
Age Requirements: Must be at least 16 years of age. All volunteers under the age of 18 must attend with a parent or guardian (or communicate with volunteer coordinator before-hand).
Physical Requirements: Must be able to stand for extended periods of time, be comfortable talking with public with a customer service approach, and preferably have some familiarity with Solana Center. If you are new to Solana Center, please let our staff know when you arrive. Must be able to lift up to 20 pounds.
If you are unable to lift 20 pounds but would like to volunteer, please communicate with Jessi in advance at volunteer@solanacenter.org for alternative options.