Food Cycle Participant Spotlight: Nicole & Mike of Sustainability Saturday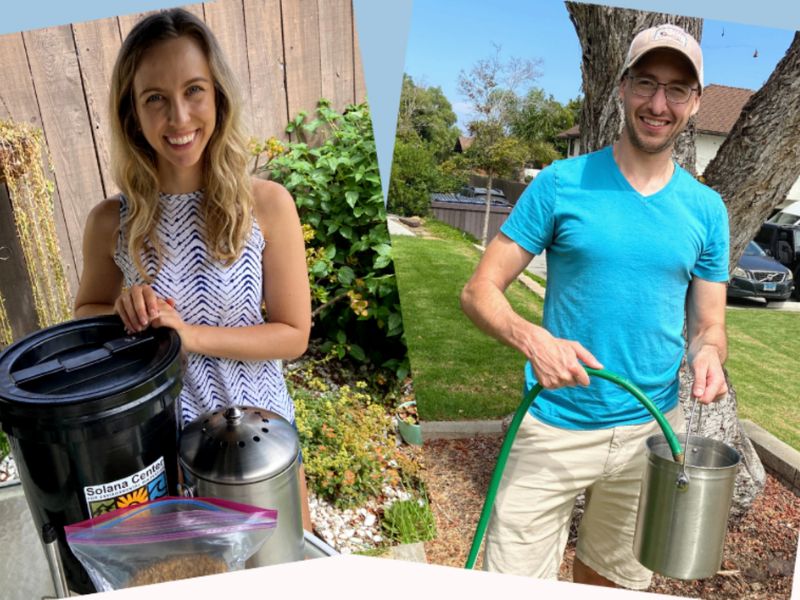 Solana Center is proud to bring the Food Cycle program to our community. The program makes it possible for community members to divert organic materials from landfills without having to compost it on their own. Participants simply collect their food scraps and organic materials and bring them to the Center for processing on-site to create a high-quality soil supplement.
We checked in with Food Cycle participants Nicole and Mike of @SustainabilitySaturday to give you a day in the life of composting with Solana Center's community compost program. Nicole and Mike have committed to living zero waste and are documenting their efforts on social media. It all started with a nagging feeling that they weren't doing enough to reduce their impact on the environment. The feeling crystallized in the winter of 2019, when within a few weeks they read Bea Johnson's Zero Waste Home, and then watched the documentary No Impact Man. At one point, Nicole turned to Mike and said, "I wish we could do more."
Nicole's comment prompted the couple to carve out time each Saturday to focus on the environment. As a way of inspiring themselves and others, they decided to share their weekend efforts on their blog and on Instagram (Check out their page and give them a follow!). In their first year, Nicole and Mike set out to eliminate 24 plastic products from their lives: one per person per month.
The couple's approach to this task was shaped by a desire to form lasting habits. They each focused on one plastic product at a time, found a more sustainable swap, and made that change over the course of a month. Some swaps took more experimentation than others to find solutions that worked. Nicole tried at least 5 different shampoo bars before she found one she liked!
When it came to choosing which plastic items to eliminate, the couple first targeted items that they bought frequently – packaged foods, for example. Then the couple went room-by-room, swapping out plastics in the bathroom (liquid shampoo, toothpaste, disposable razors), the kitchen (liquid dish soap, plastic scrub brushes, cleaning products), and the living room (lint rollers, tissues).
Sharing their experience with family and friends has been rewarding and motivating for Nicole and Mike. More than anything, it has created a sense of community. Going zero-waste has become a hobby that they can talk about with their parents, friends, and social media connections. They've found that living by example, rather than pushing changes on others, has inspired change in the people around them. Telling others how much less money they now spend on groceries helps, too.
Since that first year, Nicole and Mike have continued implementing environmentally-friendly habits, one of which is composting via the Food Cycle program. Take a look below as they share the easy steps they take with Food Cycle to divert waste today for a greener tomorrow!
1. Save your scraps
It all starts with collecting your food scraps. Nicole and Mike keep their compost caddy on the counter to easily store scraps before transferring to their air-tight bucket. You can also add paper towels or other "brown" materials from around the house to be composted!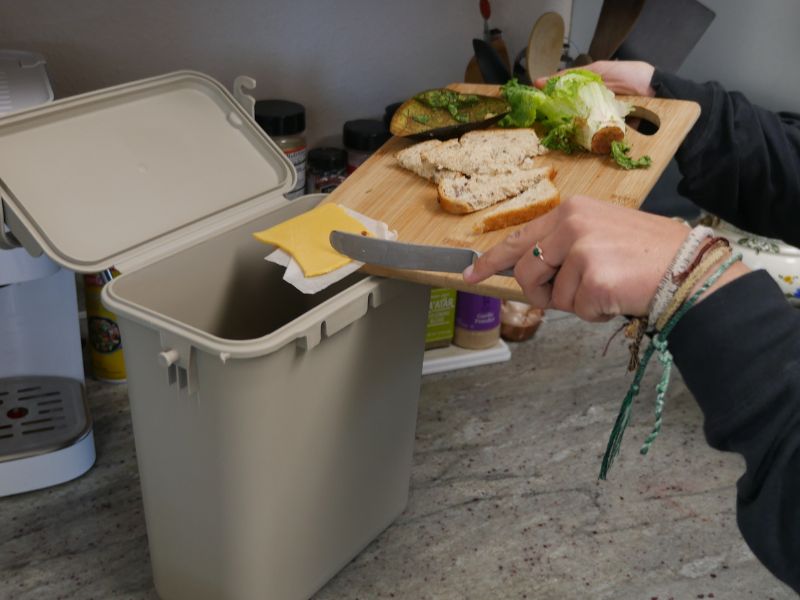 2. Add them to your bucket
Once they've filled their kitchen caddy, they transfer the food scraps to the Food Cycle bucket. Adding a sprinkle of bokashi bran each time helps start the fermentation process to prevent the scraps from rotting. Nicole and Mike keep their bucket outside on their condo's patio. Food Cycle is perfect for apartment residents or households of any size because all you need is space for a 5 gallon bucket!
3. Sprinkle on bokashi
Once their bucket is full, Nicole and Mike come by the Center to drop it off. At the center they weigh the bucket and enter the weight in an online tracking form. The Solana Center uses the form to record total food diverted from landfills: Last year we helped turn 2,000,000 pounds of organic material into healthy soil!!

4. Exchange your bucket!
Finally, Nicole and Mike pick up a sanitized empty bucket and start the process again! The Solana Center team processes the Food Cycle materials on site and offers finished compost for our participants to use in their gardens.
We're so grateful for our awesome Food Cycle participants! If you're interested in joining the program visit www.solanacenter.org/food-cycle for more information.