Solana Center's zero waste experts look forward to helping you "go green" at your next event! We can guide you with waste signage, planning, volunteer coordination, and final waste assessments at a range of involvement capacities.
Solana Center's event booths are designed to inspire and empower individuals to reduce and rethink waste and become change-makers in their communities. They have been a hit at events across the county, such as the San Diego County Fair, Fiesta Del Sol, EarthFair, EcoFest, and more.
Themes for Solana Center's Zero Waste booths include:
Composting

Vermicomposting

Manure management

Recycling

Watershed stewardship
Choose one or a few to incorporate into your environmental event! We work with all schedules from an all-day info booth to numerous short 10-minute presentations to a handful of in-depth 30-minute presentations. Booth fees vary.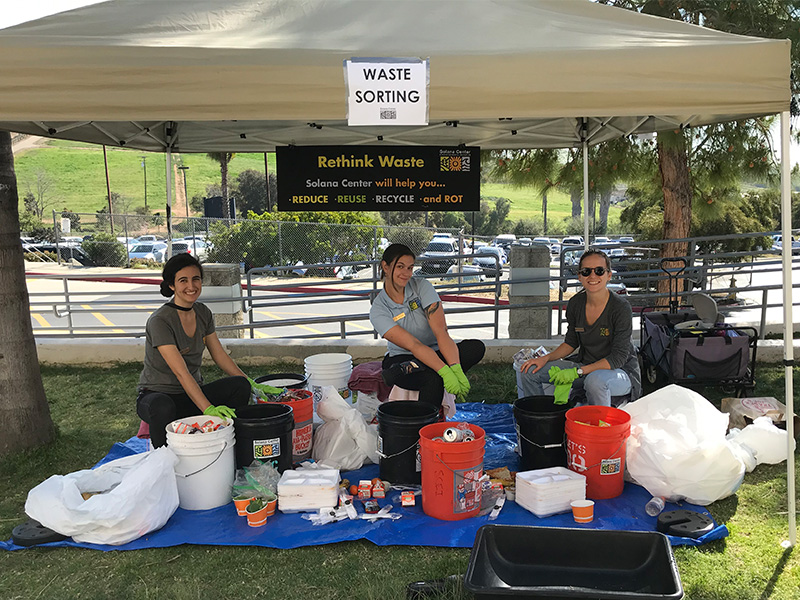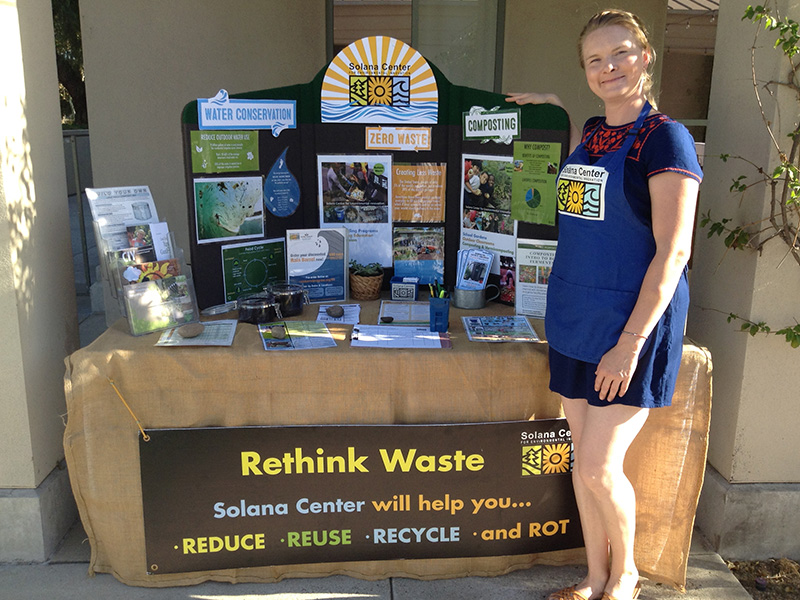 Past Successes
At EcoFest, an annual environmental event in Encinitas with nearly 2,000 guests, we host a multi-themed booth with activities showcasing watershed stewardship, recycling, and composting. Bagman is also a popular guest who encourages photo ops and brings awareness of single-use plastic bags. If you are interested, our Foam Monster is also available to hang out with event-goers!
In addition, thousands of students each year enjoy our vermicomposting booth where they learn all about Red Wigglers and how to make a worm bin. They even get a chance to meet these wiggly critters up close!
Lastly, we hosted an extravagant compost booth in the Del Mar Fairgrounds Infield Farm for the annual San Diego County Fair, which welcomed over 1.6 million attendees. Guests were invited to plant their own seeds, decorate pots, and take them home to add to their garden!
Zero Waste Events
We are available for events of all types and sizes and have a variety of support levels offered, as described below:
Light Support: Solana Center will work with your event planning team to understand event logistics and waste management needs, conduct a waste audit of the event, and give event coordinators a report on zero waste successes future year recommendations.
Full Support: Services include all services included in Light Support plus recruiting and training volunteers to assist in helping attendees divert materials, Solana Center working with event vendors to pre-plan packaging and resources used to be in line with zero waste goals, and Solana Center to coordinate with waste haulers to collect and dispose of waste in appropriate dumpsters.
Other Support Services:
Food Waste Diversion: Solana Center to  provide buckets for food waste collection and processing of food waste at Solana Center composting center. Monitoring of diversion buckets available if needed.
Energy Bar Wrapper Diversion: Solana Center teams up with TerraCycle to collect and recycle energy bars, a typically difficult to recycle waste.