News Release: Climate Mitigation & Circular Waste Practices Showcased in San Diego County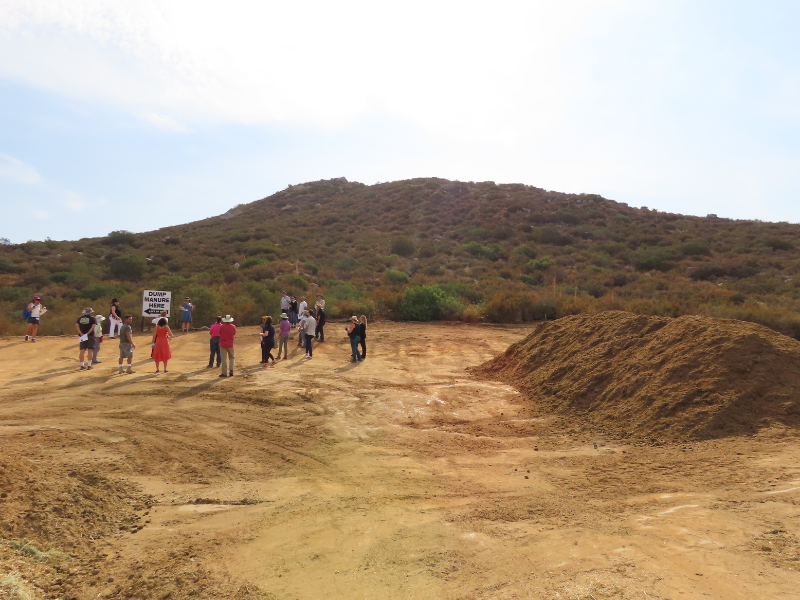 RAMONA – Federal, state, and regional elected officials and staff visited a Ramona equestrian center last week to witness an operating circular waste operation that abates runoff and diverts 20 tons of manure and horse bedding weekly from landfills.
Last week's tour hosted sustainability representatives from the office of US Congressman Mike Levin, SANDAG Chair Catherine Blakespear, San Diego County Supervisor Joel Anderson's land use advisor, and State Assembly Member Tasha Boerner Horvath's environmental advisors.
At the tour, visitors to San Diego Country Estates Association (SDCEA) witnessed a working manure composting site that was engineered to process on-site generated organic waste, protect nearby waterways, and demonstrate rainwater runoff catchment and the regeneration of native fauna.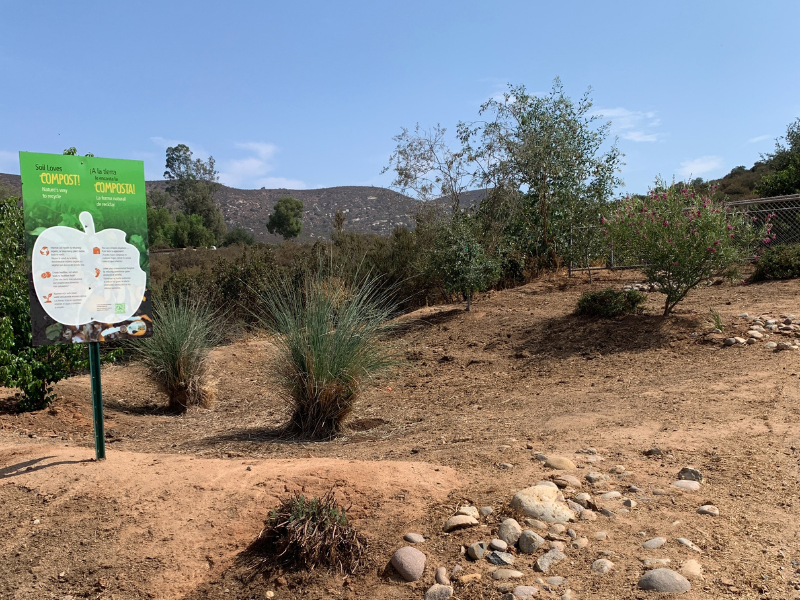 The project was led by Solana Center for Environmental Innovation and funded by San Diego County Land Use & Environmental Group. It highlights the benefits of public-private collaboration for tackling climate change issues. With the County's support, Solana Center has established a portfolio of operational demonstration sites that highlight different techniques appropriate for different situations, while producing similar environmental benefits. They provide operational examples for others throughout the County to visit and replicate.
SDCEA boards 120 horses, which generate over 1,000 tons of manure and bedding annually. By composting this organic material on-site rather than sending it to a landfill, an estimated 300 MTCO2e* of climate-impacting greenhouse gases are avoided each year.
Through design and implementation of BMPs (best management practices), the site toured last week demonstrates:
organic waste and rain run-off self-management,
erosion mitigation and watershed protection, and
soil amendment, with water retention and lasting carbon sequestration benefits.
Demonstration sites help inform our community and our elected officials as they seek ways to responsibly tackle the collective climate challenges. San Diego County is currently considering new ordinances to facilitate on-farm composting. Other influencing government activity includes the recently introduced federal COMPOST Act to encourage composting and the all-encompassing California state legislation SB1383 that prohibits organic waste from being landfilled beginning in January 2022.
"Solana Center is really leading the way when it comes to ecologically responsible waste management," said Assemblymember Tasha Boerner Horvath. "Their techniques for diverting organic waste help protect our vital watersheds from contamination, reduce planet-warming emissions, and create byproducts that prove useful for local farming. These and other methods being pioneered by the Center are key to achieving a more sustainable, water-secure future for our region, and it's encouraging to see this kind of climate innovation in action."
"This exciting project shows the potential to return resources to the land. I'm so grateful for the visionary approach Solana Center brings to their work and the opportunities they create for our community to live more sustainably." Catherine Blakespear, SANDAG Chair, and the City of Encinitas Mayor.
"The importance of educating ourselves on compost and composting can't be overstated in addressing global climate change and re-balancing the carbon in our atmosphere which will help in stabilizing the extreme weather patterns that are becoming the norm. Understanding and managing carbon cycling in our environment must begin at a local level and composting and the use of compost to enhance soil health and address environmental problems is one of the simplest actions we can all take in response to climate change." Craig M. Kolodge Ph.D., Sustainability Manager – San Pasqual Valley Soils; Board Member of the Assoc. of Compost Producers and former Filtrexx International Regional Technical Director
Solana Center envisions a self-reliant San Diego region that returns organic nutrients to our local soils. The collaborative project at SDCEA highlights the collective impact possible with accessible solutions. It is all about returning resources to the land.
"This site is an excellent demonstration of how a public-private partnership turned obstacles and waste materials into desirable resources. Compost now acts as erosion control and nourishes soil on the site and in the community. Rainwater is captured to replenish the arid landscape and prevent stormwater runoff from reaching protected waterways." said Jessica Toth, Executive Director of Solana Center for Environmental Innovation.
To learn more about the event and site, receive publishable images, or schedule a press interview with Solana Center, contact Executive Director Jessica Toth at jessica.toth@solanacenter.org or 760.436.7986, x713.
*MTCO2e is "metric tons of carbon dioxide equivalent," the standard measure of greenhouse gases.
Solana Center is a San Diego-based, environmental non-profit that has provided waste diversion and environmental education in San Diego County for 38 years. The organization is out-front advocating to reset the food chain into a Food Cycle, by returning the region's food waste back to our farmlands – safely and responsibly – for composting and local land application. Solana Center actively addresses and solves the region's most pressing environmental issues through the recycling, composting, and water conservation programs that inspire and empower individuals to live sustainably, reduce waste, and become changemakers in the communities where they live.