Picnic in sustainable style!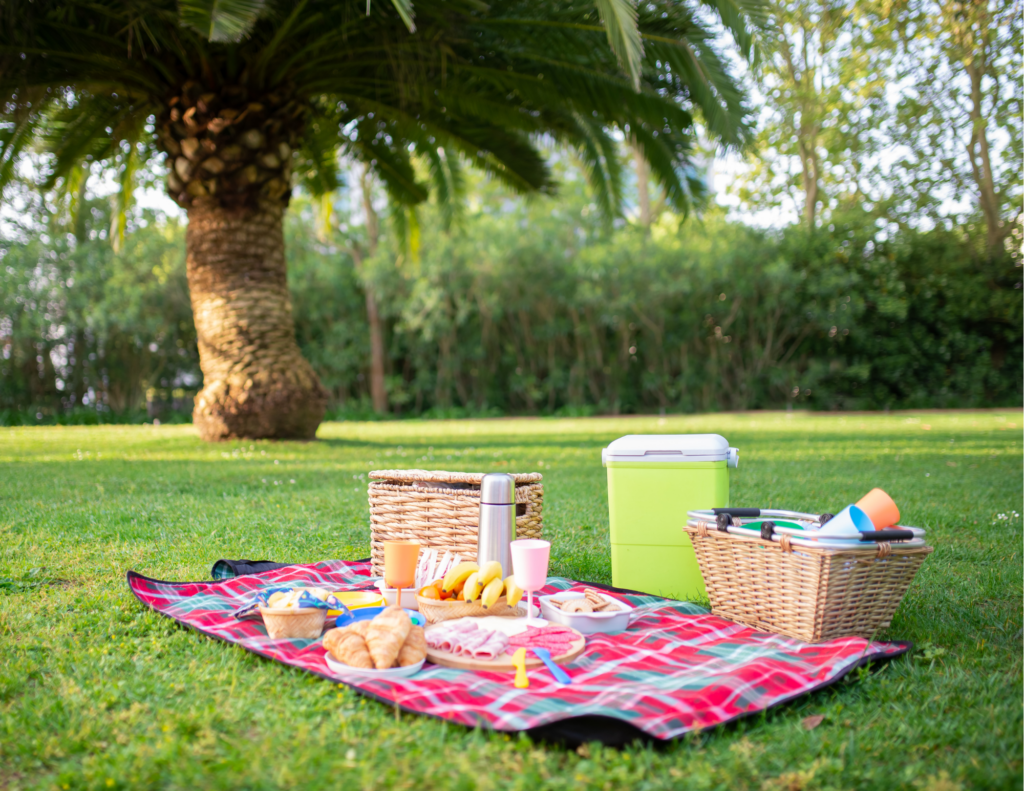 The weather is warm and the sun is shining, making it a lovely time to picnic. It's easy to wrap your picnic food in plastic wrap, put it all in a bag and throw all your trash away at the nearest trashcan. However, the earth, the water, the landfill, and your garden will all thank you for making some small changes that have huge impacts. Here are some tips on how to make your picnics colorful, tasty, and earth-friendly.
First of all, find a picnic container. Choose a nice sturdy basket, cooler, or reusable bag that can be washed easily. These can be attractive, easy to use, and reused over and over. No more paper lunch bags in the trash!
Next, find some reusable bags or containers to get that plastic wrap out of the landfill. Your everyday plastic sandwich baggies can be washed and rinsed in the sink to be reused, as can baggies from products you've bought at the grocery store. There are also some great alternatives that are much more durable. Some companies have come up with reusable lunch bags and pouches, made specifically to provide an easy alternative to using new bags every day. They are sturdy, reliable, and easily washable. Another option is to clean and save sauce jars and sturdy takeout containers.
Use reusable water bottles and thermoses for liquids.
Bring reusable utensils. While plastic utensils can be easy to use and dispose of, without too much trouble, you can bring your own! If you don't wish to bring along the set of silverware you use at the dinner table, consider purchasing a set of utensils just for your picnic. You can find camping sets that are often made of sturdy plastic, or a newer option, bamboo utensils. The same goes for plates, bowls, and cups – buy them in sturdy plastic or bamboo if you don't want to use anything breakable.
And don't forget: keep those apple cores! Keep your compostable food waste in one of your reusable baggies and bring them home to feed to your worms or to throw in the compost pile in your backyard. You would be amazed at what a difference it makes! For more info on how to compost, please click here.
And there you have it, some fun colorful ways to make your picnic clean and green. All reusable suggestions can be found in a variety of shapes, sizes, and colors. Remember your sunscreen, enjoy the weather and have a wonderful picnic!
What suggestions do you have? What things do you do to keep your picnics and packed lunches green?