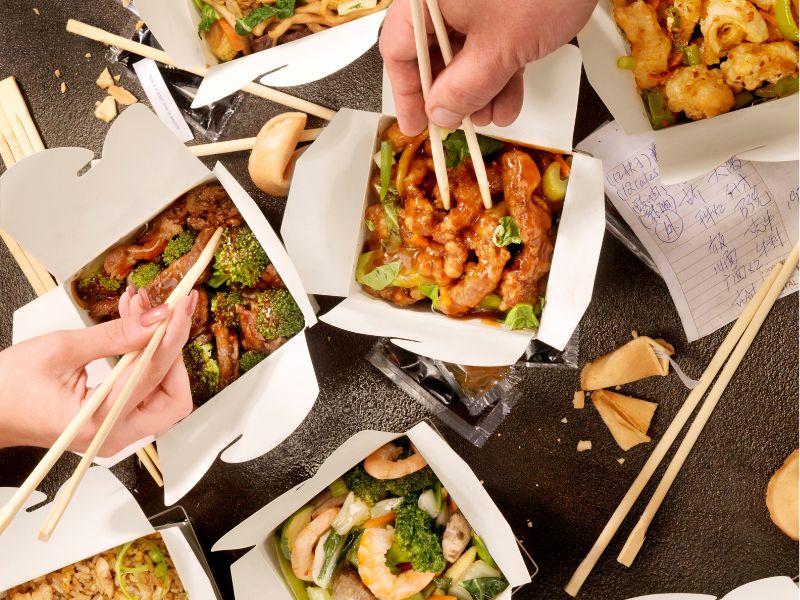 It is no secret that Covid has had a big impact on the restaurant industry as well as other daily activities we may have previously taken for granted in our modern society. Unfortunately, this means that eating "out" looks much different than it used to, often accompanied by plastic bags, styrofoam boxes, and mixed-plastics containers.
While reducing consumption and avoiding these containers is the best path for the environment, we want to help you feel comfortable supporting local restaurants to continue to keep San Diego's thriving food scene. Take a look at our guide to takeout recycling below.
Reduce/Refuse: Since the majority of people getting takeout are bringing it directly home to eat, taking time to ask for no utensils in your takeout bag – or no bag at all – is key. Not only are you preventing the use of single-use plastics, but you are also helping promote a by-request thought process and set a new standard because these options only exist if enough people ask for it! If you're ordering online you may be able to put this direction in the "notes" section with your order.
Recycle: We get it, takeout recycling is challenging because it has all those tricky items – mixed materials (paper with plastic liners), too small (utensils), compostables. Learning the difference between materials and proper sorting is important because adding non-recyclables into the curbside bin can have negative effects at the facility. These are important standards not only for general recycling but important to keep in mind for takeout. For example, small sauce containers are recyclable but most people send them to the landfill instead of emptying/recycling.
A few rules of thumb that apply to takeout and daily recycling:
1. Hard plastics are recyclable in your curbside bin. Keep the phrase "floppy sloppy, rigid recyclable" in mind when sorting takeout materials. This means plastic bags, wrappers, styrofoam boxes are not able to be added to your curbside bin.
2. Empty, dry and loose. Recycling materials such as take out containers need to be empty of contents (a quick rinse of food residue will suffice for most things, no need to soap and scrub), dried, and added to the recycling bin loose — not in a plastic bag.
3. Do NOT put in your curbside container:
Plastic utensils or bags (and other film plastic)
Food soiled items (a little residue is ok)
Compostable containers cannot be added to recycling. Add them to your compost bin if they are clearly made of paper materials!
Cords, ropes and other tangling items (Christmas lights and hoses etc. Solana Center offers curbside e-waste donation at our site.)
Hazardous waste (electronics, bulbs, batteries, propane tanks, paint etc.)
Composting leftovers: Hand in hand with recycling packaging comes the recycling of unwanted food. Solana Center offers our Food Cycle community compost program for residents and businesses to help divert unwanted leftovers or scraps as a by-product of cooking. We also have a lot of resources to help residents start composting easily right at home! For the most part, leftovers are safe to put into your compost bin unless it is heavy on dairy, meat or oil.
Recycling questions? Check out more facts and tips on recycling here or contact our "rotline" at zero.waste@solanacenter.org or (760) 436-7986 ex.701.