Join the Kitchen Caddy Challenge!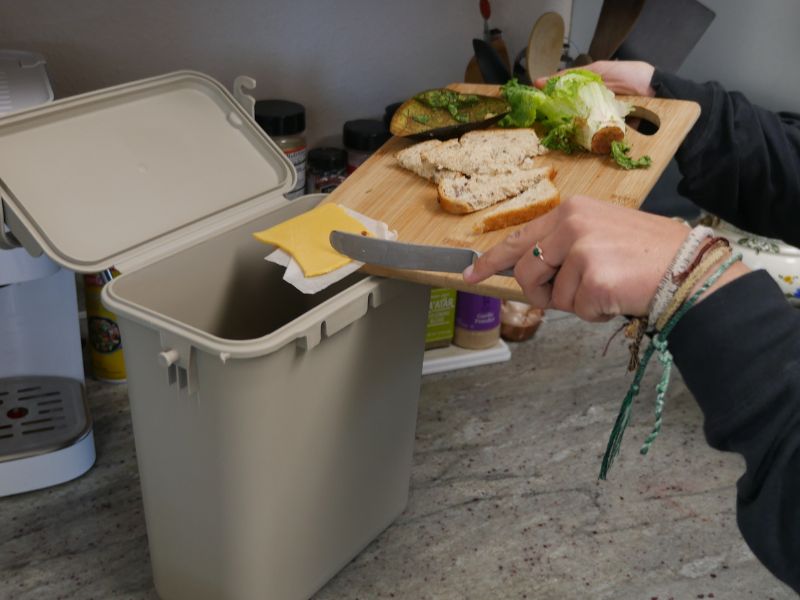 We're encouraging you to join the Kitchen Caddy Challenge!
Why a Kitchen Caddy Challenge?
For even a single day, setting aside the amount of organic food waste you produce in your kitchen into a portable caddy or bowl separate from the trash receptacle can be an eye-opening endeavor.
If you commonly throw organic waste such as food scraps or leftovers in the trash can, it's commingled and you don't really know how much is getting thrown away. Separating organic materials is a simple start to give you insight into how much waste you are generating.
Food waste makes a BIG impact!
'Food Waste' is defined as all food that was intended for human consumption that was removed from the human food chain for one reason or another. For the average U.S. household of four, food waste results in $1,866 in annual losses. This wasted food is not only a missed opportunity to feed people, but it also comes at a cost to the resources it took to produce. When food is wasted, the energy, water, and land it took to produce are also wasted. And on the back end, this disposed of food makes up 20% of our landfills and is the main cause of landfill-related greenhouse gasses.
We've all been there – forgetting the spinach in the back of the fridge drawer until it is shriveled beyond recognition. Instead of being quick to toss it into the trash, take a moment to think about the resources that would be wasted by doing so. While it may no longer be appetizing to eat, this spinach, or other unwanted food scraps, can have a second life as organic material in a compost pile, one day to return to the soil to fuel the growth of future veggies.
Knowledge informs actions and we're in it together! Join in on the Kitchen Caddy Challenge to evaluate your food waste. Need a kitchen caddy? Order one from our online store for easy curbside pick-up. Be sure to take a photo and tag us @SolanaCenter to tell us what you've learned by taking on the challenge!