Let's Talk About Organics Recycling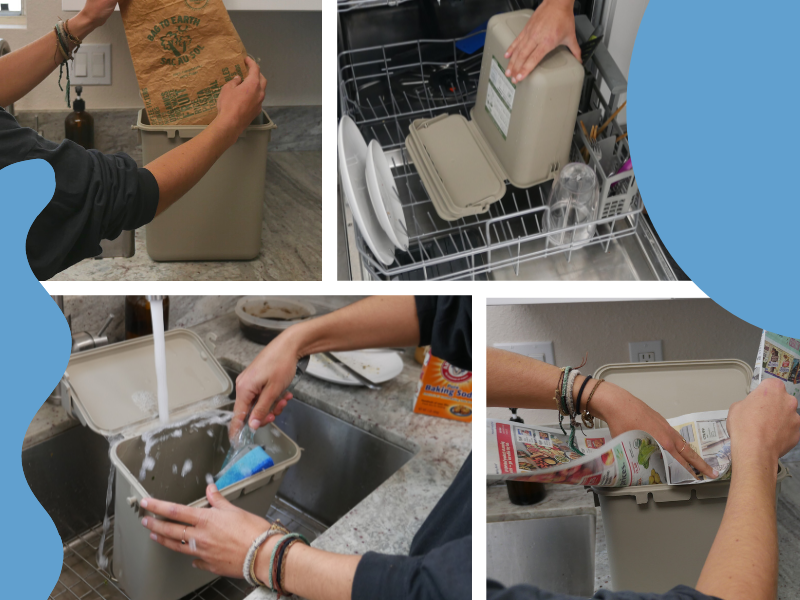 Solana Center is proud to work with a majority of jurisdictions in the San Diego region to help with organics green bin distribution and provide education on what goes where as both residents and businesses begin participating in this important program spurred by SB 1383 legislation.

At the start of summer 2021, EDCO distributed kitchen caddies and compostable paper food waste bags to all single-family home residential customers in Encinitas with the launch of the curbside organics recycling program and we were right there supporting from the education perspective. The caddies are designed to help you easily separate food scraps and other organic materials in the kitchen and transport them to your green bin, making it easier to divert these materials from your kitchen trash where they may have been going before.
We know that each household has its own daily groove and routines. The most important part of participating in the organic waste program is finding a way that works for you and your family! The following tips are shared by City of Encinitas staff and residents to demonstrate how they have been using their kitchen caddie to help divert organic waste from the landfill as well as maintenance tricks to keep your caddie smelling fresh and clean.
Using your kitchen caddie:
Keep your caddie in a convenient location in your kitchen, such as on the countertop, under the sink or in the fridge or freezer so that you can easily place leftover food scraps and food-soiled paper inside as you cook or clean up.
Empty the contents of your kitchen caddie into your green cart regularly – don't wait to do it just when it's full! "Our family has gotten into the habit of taking the kitchen caddie out with the recycling and trash the night before trash day as we set out the carts each week."
Storing your caddie in the fridge or freezer is helpful to prevent fruit flies or odors.
Sprinkling baking soda inside your caddie on top of food waste helps mitigates any smells.
When you place your food waste in your green bin, cover it with yard waste to deter flies and trap odors.
Unsure what can and can't go in your green bin? Take a look at page 2 of the City of Encinitas' Organics Recycling guide!
Cleaning your kitchen caddie:
Regularly wash your caddie by hand with soap. "I've found that giving my kitchen caddie a rinse every time after dumping it into my green bin helps prevent mushy food build-up and any smells."
Put your caddie in the dishwasher to wash along with other dishes.
Use the Bag to Earth paper bag liners provided or make a caddie liner out of newspaper or a brown bag. This helps make cleanup easier and absorbs excess moisture. Remember, NO compostable or biodegradable plastic bags or plastics bags can be added in your green waste bin!
Has your household found another process that helps you to save your scraps for organic recycling? Share it with us and help your neighbors get set up for success!
Need to purchase more Bag to Earth compostable liner bags? For a limited time, Solana Center is offering buy pack of bags get one pack FREE thanks to EDCO and City of Encinitas' support. Order from our online store for pick up in Encinitas with this link: https://bit.ly/3u8lA9j. Additional bags can also be purchased at Seaside Market or online at bagtoearth.net. For further information on how to use your caddie, please visit https://san-diego.edcodisposal.com/resource-center/recycling-guide/.