U-Waste Update: U-waste (light bulbs and batteries) recycling is CLOSED until further notice. Please visit wastefreesd.org to find open u-waste recycling sites.
Drop off available Thursdays, 12 - 5 PM, and Saturdays, 9 AM - 1 PM. No appointment is needed!  Please see staff at the front door before unloading. To maintain safety for all parties, all unloading must be performed by the customer, staff will not be able to assist.
 All customers must log their drop-off by clicking the "Log e-waste drop off" link and completing the form. A $5 donation is requested in order to help us continue offering this collection program to the community.
Solana Center accepts the following e-waste:
Appliances - small (blenders, fans, microwaves, electronic razors)

Cameras (film, digital, antique, etc.)

Cell phones, iPods, tablet, iPads

Chargers and cords

Christmas Lights

Computers and laptops

Computer accessories (mice, keyboards, etc)

External Hard Drives

Electronic toys and games

Fax machines

Landline phones and answering machines

LEDs

Monitors/flat panel display

MP3 players and CD players

Network Equipment (routers, modems, switchboards, etc.)

Radios

Small home or office printers

Speakers, stereos, radios (not wood)

Turn Tables

TVs

VCR, VHS, and DVD players

Video Game Systems

Walkie Talkies
Solana Center does not accept any of the following e-waste because they contain radioactive materials or other dangerous contents:
Carbon Monoxide or Smoke Detectors
VHS tapes, CD's, floppy disks
Important

: Please remove all sensitive data from devices before drop off. Solana Center takes no responsibility for the handling of personal information left on any device.
U-Waste Recycling Items
What is U-Waste? Also called "universal waste," this includes many hazardous waste items, including fluorescent lamps, cathode ray tubes, instruments that contain mercury, batteries, and others.
Solana Center accepts compact fluorescent (CFL), LED, and other light bulbs for recycling. We do not accept incandescent light bulbs. We also accept old batteries at Solana Center for recycling!
**Please note, due to unforeseen circumstances, we cannot accept any u-waste materials for recycling currently. Please stay tuned for updates in the coming weeks.** 
If you are trying to responsibly dispose of E-waste from your business Urban Corps has a free pick-up service! Register online by the second Friday of the month for pickup on the third Wednesday of the month. Urban Corps will contact you to confirm pick-up. All areas of San Diego County are eligible.
Accepted businesses items include:
Computers and laptops

Computer monitors, mice, and keyboards

MP3 players and CD players

VCR and DVD players

Cell phones and landline phones

Small home or office printers

Fax machines

TVs

Radios

Electronic toys and games

Photo and video cameras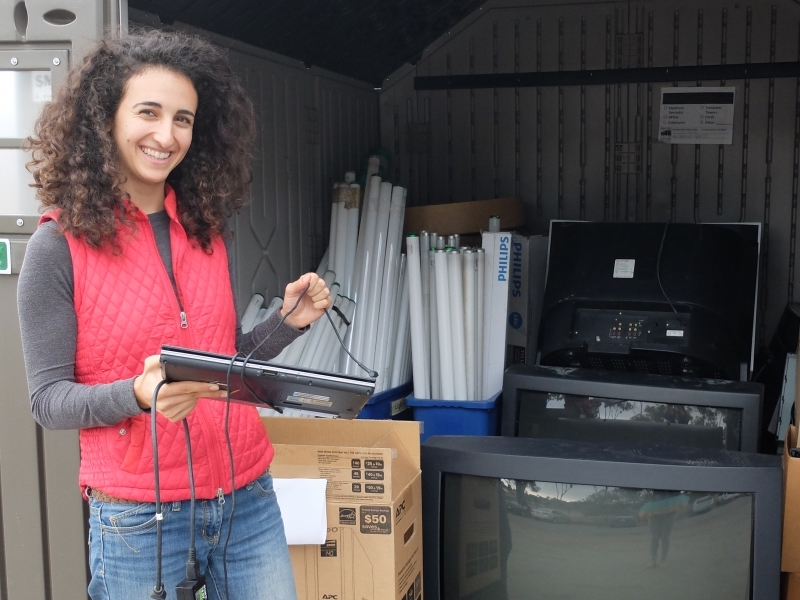 Thank you for doing your part to keep our community healthy by keeping this toxic hazardous waste out of our landfills and groundwater.
Did you know that E-waste only represents about 2% of the waste in America's landfills, but equals around 70% of the overall toxic waste? This toxic waste can eventually pollute our groundwater supply.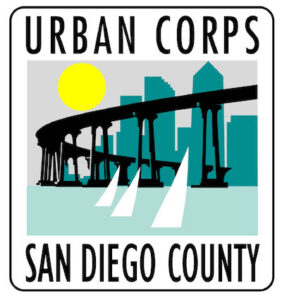 In partnership with Urban Corps
To process e-waste Solana Center partners with Urban Corps - a local nonprofit that provides job training and educational opportunities to struggling youth ages 18-26 years old in the San Diego area.
Urban Corps transports the electronic waste that you drop off to Gold'n West Surplus Inc., a large-scale electronic recycler in Corona, CA which processes 4 million pounds of e-waste per month. They are in line with the strictest industry standards and EPA regulations including ISO1400, OHSAS18001, and R-2 certifications to sustainably recycle E-waste while also protecting the environment and their workers.