Community Series: Kickstart Your Summer with a Garden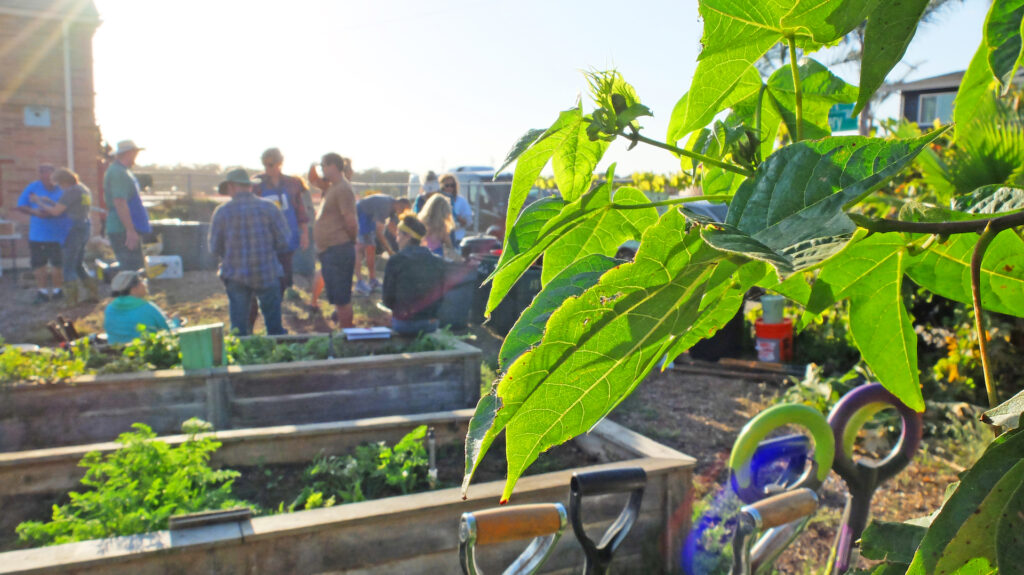 Wondering how to make the most of your San Diego Summer? We've got the answer… a garden! Growing your own food or making the switch to locally sourced foods have both health and environmental benefits. Fruits and vegetables begin to lose their nutritional value as soon as they are picked. In order to meet your nutritional needs, it is important that these foods come from a local source. Not to mention, buying locally ensures that your food has not traveled thousands of miles using fossil fuels that produce large amounts of greenhouse gasses. It also ensures that your food hasn't been refrigerated for hours or even days, which also produces large amounts of greenhouse gasses. Last, but certainly not least, gardening is a great way to bring the community together and gives people the opportunity to make a difference in the world.
What is the best way to kickstart your San Diego garden? We've reached out to three local organizations in the gardening and food space to help give you some of their best tips!
---
Revolution Landscape
Revolution Landscape reaches far beyond the bottom line, as their landscapes involve much more than the aesthetics of the plants. Through their commitment to sustainability, their goal is to have a positive and lasting impact within the community and environment. With their new way of looking at health, society, and the environment they are on the pathway to achieving their goals.
1. What is the best part of having a garden?
I have always loved gardening and before having my son I just really liked having fresh organic produce. Since becoming a father, my favorite part of having a garden by far is watching my now 3-year-old son pick fresh fruits and vegetables and popping them straight into his mouth. He's been loving snap peas this winter!
2. What is the best tip you can give to our community members that are interested in starting their own garden?
Don't try to start a garden in the shade or under a large tree. I cannot tell you how many people I talk to, have started gardens on the side of their house with less than 4 hours of direct light or under large mature trees that have invasive roots. It can be very frustrating and discouraging especially for first-time gardeners. Veggie gardens need sunlight. It's easy to provide water and fertilizer but providing more light is a real challenge.
3. What has been one of your favorite landscape projects?
The photo above is of a really fun garden we designed a while back in Solana Beach. The project included a large veggie garden as well as a number of fruit trees and low water plantings.
---
Coastal Roots
Coastal Roots Farm prioritizes techniques that build and maintain soil and sequester carbon. They not only grow great food for the community but are contributing towards a solution for the larger problem of climate change. Coastal Roots Farm consists of vegetable production fields, education farms and gardens, and compost operations. They are doing great work to unite the community to grow and share healthy food and care for the land.
1. What is the best part of having a garden?
The best part of having a garden is the satisfaction of growing something from seed to harvest. Even as an experienced farmer, there is still so much anxiety and anticipation while waiting for a seed to emerge from the soil. There is nothing quite like the thrill of finally seeing the little leaves pop out and knowing you are on your way to fresh fruits and veggies. Growing and eating my own food is really empowering!
2. What is the best tip you can give to our community members that are interested in starting their own garden?
Build healthy soil and embrace the imperfection! Nutritious, living soil is the base of all life and will help you grow strong, resilient plants- use compost and mulch to protect your soil. Additionally, growing food is extremely humbling. It reminds me that there are natural processes out of my control and that gardening is an ebb and flow of trying something out, watching success or failure happen, and making adjustments. I have to constantly remind myself that in growing food, I am never working towards one specific end goal, a challenge for a recovering perfectionist. Seasons change, plants die, new life emerges, pests happen, and there will always be weeds to pull.
3. What is your favorite thing you grow in your garden?
Cucamelons are my favorite thing to grow (and the kids love them too)! I learned about them just a couple of years ago and they are adorably small while packing a sweet/sour punch. Cucamelons are perennial, which means they pop up year after year, so every time I see their vining leaves popping out of the soil, I know summer is on the horizon. They are a great snacking fruit to keep me grounded in the seasons and cycles.
---
San Diego Seed Company
San Diego Seed Company uses sustainable growing practices to provide the community with organic local seeds that have been acclimated to the range of microclimates of the area. By producing local seeds that adapt to local growing conditions, crops become more resistant to local plant pests and can adjust to the soil structure of the area. San Diego Seed Company's efforts not only support the regional food systems but fuel sustainability by ensuring the cycle of life.
1. What is the best part of having a garden?
The best part of having a garden is the development of all the skills it takes to be a gardener. You learn to become a meteorologist, ornithologist, entomologist and most importantly, an optimist!
2. What is the best tip you can give to our community members that are interested in starting their own garden?
Learn from those who have been growing in your community. They have made mistakes and you can learn from them. Ask questions, get involved, volunteer and get to know those who grow in your community.
3. What is your favorite thing you grow in your garden?
We love to grow food of any kind. Nothing is better than going into your garden to harvest produce for dinner. I am a big fan of greens and lettuce! So easy!
Are you inspired to get your hands in the soil and plant some seeds? Solana Center is offering composting education all summer long to help you learn how to get your soil ready and give your garden a strong start – check out our upcoming free workshops! Additionally, to read more about the mental wellness benefits of gardening check out our recent blog post written by a Master Composter course graduate.