Community Series: Waste Not With Upcycling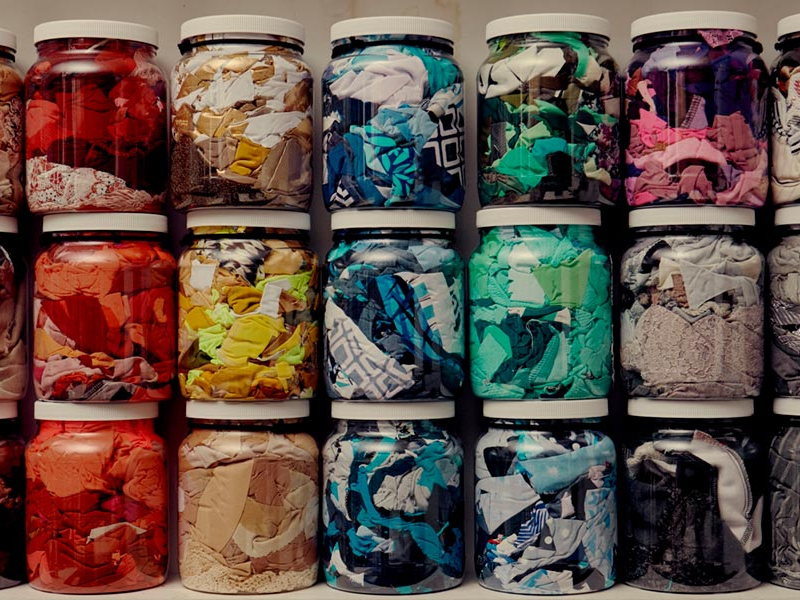 One person's trash has the potential to be another person's treasure thanks to the powerful process of upcycling! Upcycling is a conventional process in which by-products and other used materials are transformed into something of higher quality or value than the original.
This creative reuse process reduces the overall waste footprint, by keeping materials from becoming trash in the first place. By transforming one thing into another, you eliminate the need to buy something else and consume it. This minimizes the volume of discarded materials and wastes heading into landfills. It also decreases the need for production, which in turn means a reduction in pollution and greenhouse gas emissions. When you buy or create upcycled products you are making a positive impact on the environment and supporting creative solutions for the future!
We connected with three local businesses who have integrated upcycling into their business by creatively transforming materials to positively impact the community. Together, they share how upcycling is often the most sustainable way to add new things into your life and can help you live cleaner, more engaged lives.
To learn more about how you can make upcycling a key strategy in your sustainable journey, check out the resources and zero waste programs on our website.
---
Helia Brewing Company
Helia Brewing Co. is an eclectic brewery and wedding venue in Vista, California doing their part to make sustainability a part of their everyday business model. They donate their spent grain and save their grain bags to the local company, The Bountiful Bag. By doing this, they are not only preventing waste from ending up in the landfills but contributing to the creation of new, innovative products. Helia Brewing's upcycling initiatives benefit their team, the well-being of the community, and the future of the planet.
1. Why is sustainability and preventing waste important to your company?
It is extremely important that we realize the beauty and limits of our natural resources. Working in a manufacturing environment has been a tough realization to see how potentially wasteful a process can be without a conscious plan. I think it is also important for our business that has the potential to connect directly with the community and consumers that we strive to not only set an example but provide a resource for things we can all do to reduce our impact daily.
2. How do you implement the upcycling process into your work?
We partner with local companies that upcycle our materials and waste. The Bountiful Bag upcycles our grain bags into rad, wearables like backpacks, purses, and even clothing! Our spent ingredients from brewing go directly to a local farm that prioritizes it for animal feed and then the leftovers get composted.
We are also very conscious of where we purchase from. For example, our merchandise is sourced from a company called Known Supply, which focuses on organic and upcycled materials that are fair trade certified and sustainable.
We are teaming up with another local organization Sustainability is Sexy on June 27th to host a sustainability fair. We have some amazing vendors who contribute to the well-being of the planet coming!
One of our employees also works for a company called Net Your Problem. She focuses on a program to upcycle commercial fishing nets into everything from bikinis, hats, and even sunglasses. We utilize our brewery as a drop-off location for commerce fishing outfits to help store and sort the nets.
We have and are always incorporating standard procedures that are a baseline for reducing and reusing throughout the brewing process. During the brewing process, we are able to re-capture 1000 gallons of water per day for future brews and cleaning.
My future goals are the addition of solar power and a wastewater treatment process that would regenerate sustainable energy to power or steam heaters and provide reclaimed water for cleaning.
3. What is one piece of advice you would give to people with materials that can be upcycled?
Upcycling is easier and more fun than you think!! It pays to support platforms like the Solana Center and similar organizations.
---
The Bountiful Bag
Once discarded, plastic materials can take centuries to break down. They clog up landfills and overburden waste-processing facilities. This problem inspired The Bountiful Bag's solution to rescue plastic waste from the craft beer and entertainment industries to create functional and sturdy lifestyle products. They are using the upcycling process to help other businesses become more environmentally responsible and raise awareness about the global plastic crisis.
1. Why is the upcycling process important to your company?
Upcycling is important for the Bountiful Bag because we focus on rescuing plastics that are currently not being recycled in California, such as single-use packaging from craft beverage ingredients and banners from beer and music festivals. Currently, San Diego has approximately 160 operating breweries that go through this packaging in abundance every day, and because they have an actual recycling sign printed on the bag, the brewers are under the impression that they're being recycled, when in fact, they're not. Our goal is to create awareness within our community about this issue and find a better and more permanent solution besides upcycling.
2. How do you implement the upcycling process into your work?
Most of the components from our bags are of upcycled materials, mostly woven/mixed plastics #4 and #5, and synthetic fabrics. We use grain bags, hop bags, banners traditionally for the outer shell of the products; and for the linings we use tents, promo flags, sample yardage from a contemporary furniture and home goods store, leftover yardage from local upholsterers as well as deadstock fabrics found in the garment district in Los Angeles. Basically, the only new components we use are straps, zippers, and hardware.
3. What is one of your favorite upcycling projects?
We are really enjoying doing collaborations with other companies and using their banners to create memorabilia to commemorate the events. We feel there is so much work and effort invested towards artwork for a specific event, that we feel sad to see all that time and energy thrown away when the event is over. Our favorite projects include disposed banners from Vans Warped Tour, Keep-A-Breast and the Brewbies Festival; however, our ultimate favorite collection so far has been our Black is Bountiful collection because we used a multitude of different non-recyclables. This collection features:
▪️Black heavy-duty plastic woven super-sack: this is the packaging of coconut shell charcoal used by Misadventure & Co. in their production of hand sanitizer.
▪️Black heavy-duty velvet: leftover material from a local drapery production company.
▪️Black and white vinyl: Made from discarded banners after a surf competition in Huntington Beach, rescued at a Surfrider Foundation beach cleanup.
▪️Silver material: from Yakima Chief Hop bags, donated to us by El Segundo Brewing after brewing their Broken Skull IPA.
▪️Yellow and Rust brown vinyl: from disposed of Karl Strauss' Collabapallooza 2019 vinyl banners.
▪️Black and Yellow Mesh: from a disposed of Vans Warped Tour promo banner.
▪️Lining: from an old Jolly Spaceship canopy from a previous project and end-rolls of fabric that otherwise would have ended in a landfill.
We are intersectional environmentalists- we love this collection because it stands for racial equality.
---
Lumber Cycle
When allowed to disintegrate, end-of-life wood releases large amounts of greenhouse gas back into the atmosphere with little or no benefits to the community. Lumbercycle is a nonprofit organization diverting woody biomass from landfills by milling fallen trees into lumber and reinvesting it back into the communities. They are using the upcycling process to transform wood into new, innovative items while enriching the community at the same time.
1.Why is sustainability and preventing waste important to your company?
Sustainability and preventing waste IS our company! Our purpose is to improve the waste management systems for urban forestry so that it can be more sustainable. The more people find creative purposes for urban wood, the more incentive there is to have a sawmill in your community, then the more likely that a tree company will send a log to the mill instead of the landfill, and ultimately the more likely appropriate and sustainable species will be planted for future generations to utilize at the end of their lifecycle!
2. How do you implement the upcycling process into your work?
Our goal is to have 100% utilization of a tree that cascades from a hierarchy of value for woody byproducts. The trunk of the tree is made into lumber, branches, and roots made into cookies and carving material, and canopy chipped and processed into biochar, all of which continue to sequester carbon far longer than conventional wood chips and firewood.
3.What is one of your favorite projects made from reclaimed wood?
My favorite projects are community garden projects because of how quickly and forgivingly everything comes together! Gardens can use all kinds of cuts for trellises and planter boxes which utilizes even the undesirable offcuts from producing lumber. Secondarily gardens can use offcuts and even small logs for hugelkultur beds which helps enrich the soil.
A close second would be guitar making. The wood volume to value guitar making is among the largest in the woodworking world. It shows off the beauty of the wood visually and different species produce different auditory effects. The best part is seeing the time and effort being put into the instrument then getting it into the hands of a professional musician who pulls every ounce of tone possible out of the wood.