Track, Reduce, and Conserve Your Water Use with Flume Smart Home Water Meter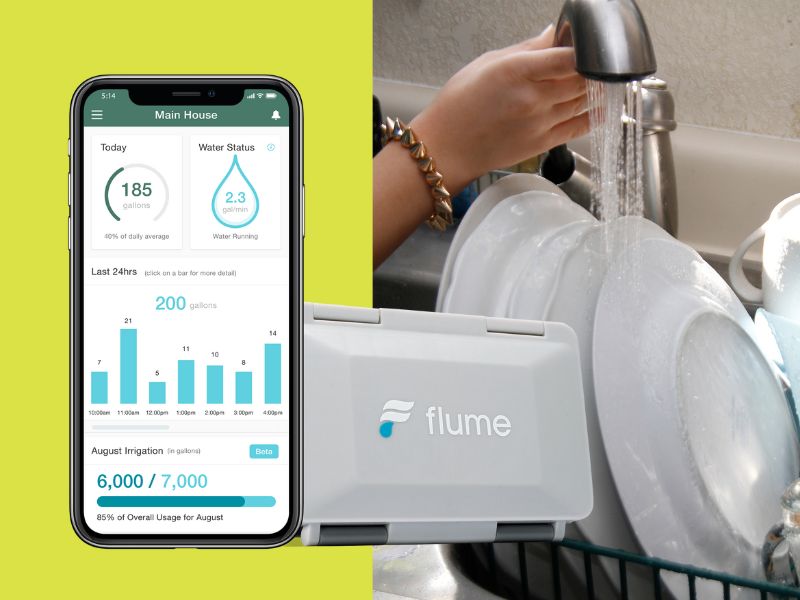 We're all working together to conserve our water and keep our water bills down because now, more than ever, we need to be mindful of our water use. But sometimes it's hard to know where to start. That's where Flume comes in!
Flume's Smart Home Water Monitor straps around your water meter and lets you know exactly how much water you're using – down to the drop. After a 10-minute DIY installation*, you'll be able to see your water use in real time through the Flume mobile app. In-depth analytics show you exactly where you can conserve water. Start saving instantly with Flume's custom budgets and instant leak notifications.
70% of Flume users catch a leak within the first month of use! With in-depth water use breakdowns and analytics, you'll be able to save money, conserve water, and protect your home from costly leaks.
Ready to fight the drought by conserving effortlessly at home? Click the button below to redeem a special $20 Solana Center discount.**
LA resident? More rebates are available to you! LADWP Customers order your discounted Flume HERE.
Flume Smart Home Water Monitor Benefits
Take Control of Your Water Use: Flume gives you down-to-the-minute, easy-to-read, water use reports and insights to help you track your use, catch leaks, and control your bills.
Catch Leaks & Protect Your Home with Detailed Water Usage: 70% of Flume users find leaks within their first month of using Flume! Flume can alert you of abnormal (or accidental) water usage to give you peace of mind whether you're at home or away with completely customizable leak alerts.
See Your Water Use By Fixture & Appliance: Flume offers you a brand new look at your water by showing you exactly how much water EVERYTHING in your home uses! If water comes out of it, you'll know! The more detail, the greater the control.
Refine Your Sprinkler Schedule: Track your outdoor water usage with Flume's source-specific, outdoor water use reports and insights.
Save Money on Your Water Bill: Create water use budgets that use smart alerts to notify you of potential water leaks and waste. Flume has helped customers save an average of 10-20% per month on their water bill.
Self-Install Flume in Minutes: Flume is a quick DIY installation: no plumbers, wires, or pipe cutting are required.
**SAN DIEGO COUNTY RESIDENTS – PURCHASE through this link to redeem a $20 Solana Center discount.
Additional $100+ rebates are available for many San Diego County Water District consumers.
Check if your water district is offering rebates by filling in your address and selecting "Flow Monitor Device on Utility Meter" under the "Select Device" section here.
LADWP customers are eligible for an INSTANT $150 REBATE. Order your LADWP Flume here. 
*The Flume product is compatible with about 95% of water meters in the United States today. However, you should check to see if your meter is compatible before you purchase a Flume device.